Our Investment Strategy Team has been studying a number of past global health crises and we wanted to provide some perspective.
Reported cases of the virus are growing quickly. Wednesday, morning January 29, The New York Times reported that there were more than 6,000 cases confirmed and 132 deaths, up from 3,000 reported cases earlier in the week. While there have been no deaths reports outside of China, as of Wednesday morning, there are confirmed cases in the U.S., Thailand, Hong Kong and a handful of other countries.
Global equity markets were down 2% on Monday, but steadied on Tuesday gaining back roughly half of what they lost. Notably, the yield curve has flattened over the past two days which may prompt the Fed – weary of inversion – to consider further rate cuts, which could potentially support financial markets.
While we can't predict the longer term impact of this virus on the markets, a look back on the impact of previous virus scares may be helpful context.
Below is the list of global health crises (GHC) and the market performance from three months prior to the announcement to six months after. To be clear, the coronavirus has not yet been labeled a GHC – and, if history is any guide, likely won't be until the event is well understood by financial markets (when you look at the data, a GHC announcement usually comes well after most of the market downturn has occurred). While the length of time between first case (or, more accurately, the first case reported) and the official GHC announcement of can vary, three months seems to do a reasonable job of capturing that time period.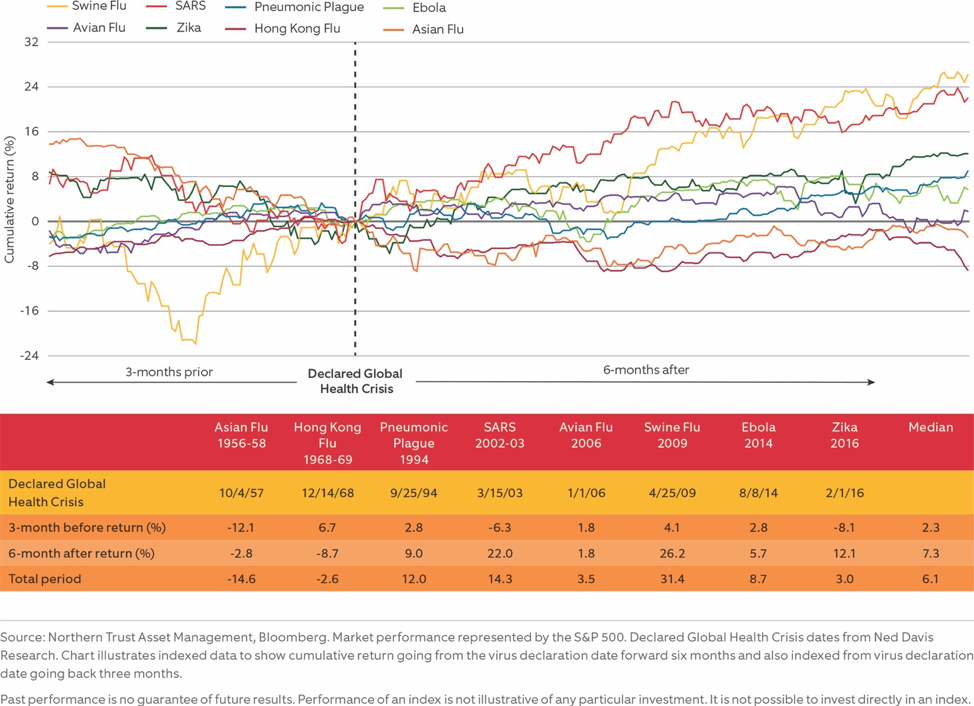 As can be seen in the data, in many cases, a GHC has been a non-event for global equity markets – markets have been positive throughout the full 9 month period in 6 of the 8 instances. Further, half of the time (4 of 8 instances), markets were positive in both the 3 months leading up to and the 6 months after the GHC.
A few cases stand out:
1) The 2009 Swine Flu showed a notable drawdown and recovery (but attributable to the global financial crisis)
2) The 1957 Asian Flu showed negative performance both before and after the GHC announcement (and killed 1.1 million people)
3) The 1968 Hong Kong Flu had the worst post-GHC announcement return (killed 1 million people).
Many have compared today's coronavirus to 2002-2003 SARS (one report noted that the virus strains are 96% identical). Based on early numbers, it appears that the coronavirus is less deadly but more contagious – and will likely surpass the number of SARS cases given the current trajectory (at last count, coronavirus has surpassed 6,000 cases vs. 8,000 for SARS). With those caveats, SARS has a -6% "prior three month return" and a 22% "next six month return" – but other factors were at play, including the Iraq war (a headwind for the prior three month return) and the bottoming of the tech bubble deflation (helping the recovery).
Why we think this time could be different (worse) as it relates to economic and financial market performance:
The nature of the virus itself – less deadly, but more easily spreadable and longer incubation period (period of time before symptoms show).
Social media has increased the awareness and speed of news circulation – impairing short-term economic activity as people "stay in". Also, and perhaps because of how quickly news has spread, the Chinese government response has been much swifter and more cautious than in previous incidents ; approximately 45 million have been quarantined, further impairing economic activity. However, this could also limit its severity (though it should be noted that an estimated 5 million Wuhan residents were able to leave the city before the quarantine was established). Finally, the epidemic is hitting during the Chinese lunar New Year, a traditionally busy travel season and oil prices are off from recent highs.
China is a much larger part of the global economy than it was in 2003 and a much bigger driver of global demand.
While financial markets have steadied, we are certainly not out of the woods on the coronavirus – and we will be tracking further developments – but, for now, market reaction can be classified as relatively calm.