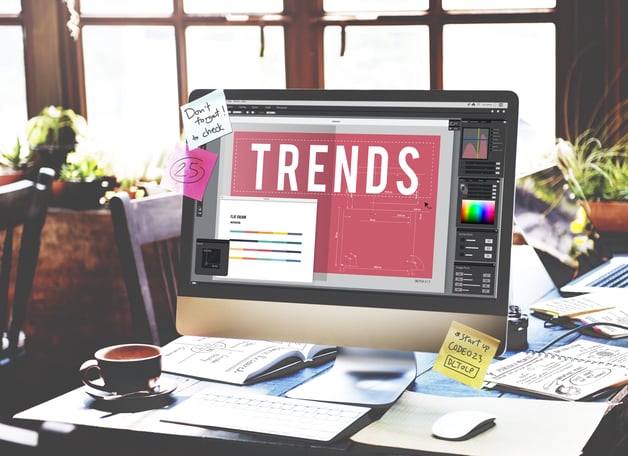 ESG (environment, social, governance) investing has rapidly moved from the fringe of investing to the mainstream. It's hard to go to an investing conference without seeing one or more sessions about ESG investing on the agenda. Major ETF and fund companies are rolling out new ESG products to meet demand among investors, institutions, and advisors. Here are some ESG trends to consider:
ESG assets
In their 2016 biennial report on U.S. sustainable, responsible and impact investing trends[1], the US SIF: The Forum for Sustainable and Responsible Investment found:
33% growth in U.S.-based ESG and impact assets over the past two years, representing a total of $8.72 trillion as of the start of 2016;
a 14-fold increase in U.S-based ESG investments since 1995;
almost one of every five dollars under professional management in the U.S. is invested in sustainable and responsible investment strategies;
300 money managers and 1,043 community investing institutions apply ESG factors in their investing decisions. Assets for this group were $8.1 trillion as of 2016, up from $4.8 trillion in 2014.
Other recent research concerning ESG trends may also be instructive[2]:
institutional investors in the survey reported $4.72 trillion in assets, an increase of 17% over 2014;
institutional investors are avoiding investments in countries with conflict risk, such as Sudan and Iran;
climate change and carbon emissions are now among the most important issues for institutions with assets of $2.15 trillion as of 2016, a four-fold increase over 2014.
300 money managers and 1,043 community investing institutions apply ESG factors in their investing decisions. Assets for this group were $8.1 trillion as of 2016, up from $4.8 trillion in 2014.
Product trends
The 2016 US SIF survey indicated that there were 1,002 distinct funds, representing $2.6 trillion in assets, which are employed in ESG strategies and criteria into their investment decision making process. This was up from $1.01 trillion in 2012.[3]
Morningstar has 292 mutual funds and ETFs in their databases that are labeled as socially responsible. Of that number, 220 are actively managed; 72 are considered passive. Of these 220 active funds, only 58 existed prior to 2000. Only two of the 72 passive funds existed prior to 2000.[4]
Morningstar also indicates that passive ESG funds are becoming more popular and that since the beginning of 2016, there have been 32 new active ESG funds launched, along with 31 new passive funds.
Other trends
Women investors, who are as likely to inherit money in the coming largest intergenerational transfer of wealth in history, have a major interest in ESG investing. At present, 76% of women consider ESG factors important in their investing decisions, and 40% seek a balance between return and impact. This compares with 60% and 23% of the male investors on these issues, respectively.[5]
Morningstar found that firms that score higher on their sustainability ratings tended to be highly correlated with lower five-year standard deviations than firms that manage ESG issues poorly.[6]
Overall, the US SIF survey cited several reasons why money managers incorporate ESG factors. They include client demand (85%), mission (83%), risk (81%), returns (80%), social benefit (79%), and fiduciary duty (64%). We believe that this "trend" has become mainstream. "ESG investing is not going away soon; in fact, trend data indicate quite the opposite."[7]
We offer ESG-focused solutions here at FlexShares for these very reasons. Give us a call to learn more about our ESG solutions and our approach.
Written in conjunction with Roger Wohlner utilizing Contently. Roger is an experienced financial writer whose work has appeared on Investopedia, US News, Morningstar Magazine and MSN Money.
---
FlexShares STOXX® US ESG Impact Index Fund (ESG) and the FlexShares STOXX® Global ESG Impact Index Fund (ESGG) are passively managed and use a representative sampling strategy to track their underlying index respectively. Use of a representative sampling strategy creates tracking risk where the Fund's performance could vary substantially from the performance of the underlying index. The Funds are subject to environmental, social and governance (ESG) Investment Risk, which is the risk that because the methodology of the Underlying Indices selects and assigns weights to securities of issuers for non-financial reasons, the Funds may underperform the broader equity market or other funds that do not utilize ESG criteria when selecting investments. The Funds are also at increased risk of industry concentration, where it may be more than 25% invested in the assets of a single industry. For ESGG, investments in foreign market securities involve certain risks such as currency volatility, political and social instability and reduced market liquidity. The Funds may also invest in derivative instruments. Changes in the value of the derivative may not correlate with the underlying asset, rate or index and the Funds could lose more than the principal amount invested.
The STOXX® USA ESG Impact Index and the STOXX® Global ESG Impact Index are the intellectual property (including registered trademarks) of STOXX® Limited, Zurich, Switzerland and/or its licensors ("Licensors"), which is used under license. The securities based on the Index are in no way sponsored, endorsed, sold or promoted by STOXX® and its Licensors and neither of the Licensors shall have any liability with respect thereto.
---
[1] US SIF Foundation Biennial Report on US Sustainable, Responsible and Impact Investing Trends, 2016 Trends Report Highlights, http://www.ussif.org/files/Trends/US%20SIF%202016%20Trends%20Overview.pdf
[2] Calvert.com, "US SIF Foundation 2016 Report Shows ESG on the Rise with Money Managers, Institutional Investors," https://www.calvert.com/us-sif-trends-report.php
[3] Morgan Stanley.com, "Sustainable Investing Myth Busters," May 17, 2017, https://www.morganstanley.com/ideas/sustainable-investing-myth-busters
[4] Morningstar.com, "Sustainably Minded Indexers Get More Choices," Jon Hale, June 22, 2017, http://beta.morningstar.com/articles/813317/sustainably-minded-indexers-get-more-choices.html
[5] Morningstar.com, "4 Reasons Sustainable Investing is Entering the Mainstream," May 11, 2017," Jon Hale, http://beta.morningstar.com/articles/813317/sustainably-minded-indexers-get-more-choices.html
[6] Ibid
[7] Calvert.com, "US SIF Foundation 2016 Report Shows ESG on the Rise with Money Managers, Institutional Investors," https://www.calvert.com/us-sif-trends-report.php