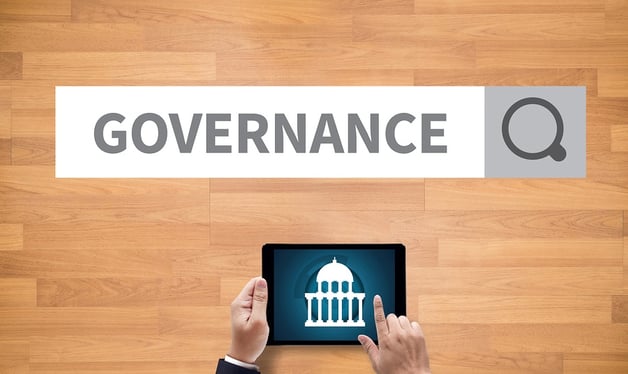 Of the three variables — environmental, social practices and corporate governance — that comprise an ESG investment, corporate governance may often require the most explanation.
Since the 2008 global financial crisis, we believe corporate governance has been recognized as potentially playing a vital role in the accountability and performance of all corporations. Today, there is a trend toward corporate transparency and disclosure, which is also fueling the interest in ESG investing.[1]
Corporate governance refers to how a public corporation is managed according to its own governing documents, such as its investment policy statement and ethics principles, and how these are then translated into actions in day-to-day management, from the board room to the departmental level. Corporate governance can vary widely among corporations and across nations.
For instance, governance may include the structure and concentration of ownership (including the identity of different types of owners), as well as the instruments and exercise of control over ownership structure. Ownership structure includes different types of shareholder blocks, such as multiple shareholders, limits on voting rights, and shares with special powers.
Governance may also cover investment policy options and controls, including measuring ownership concentration, estimating free float and allocating ownership among different stakeholders, including the use of shares with different voting rights, and board responsibilities. Free float shows the percentage of total Common Shares Outstanding which are freely floated on a stock exchange.
Importantly, governance may also involve sustainability, which is often thought of as a characteristic of socially responsible corporations. Sustainability refers to a concept of global corporate responsibility that includes legal, economic, social and environmental issues.
We believe that when good governance is aligned throughout an entire corporation, researchers and investors have seen the demonstrable relationship between good governance and making well-researched investment decisions. For example, a recent report issued by the Organization for Economic Co-operation and Development (OECD)[2] found that corporations should focus more on transparency and creating established policies for dealing with all stakeholders to improve both long-term profitability and governance. This global G20/OECD Principles of Corporate Governance Report[3] presented changes made to practices from the OECD Corporate Governance Committee and the World Bank. While the updated governance report dealt with shareholders and transparency, the report also made the claim that good governance can make a definite impact on financial stability and improved economic performance.
Similar findings have been reported in earlier studies. According to a 2010 study published by the National Bureau of Economic Research, companies with good corporate governance standards—those that avoided poison pills, staggered boards, golden parachutes, and other practices favoring management— helped boost share prices.[4] Furthermore, the study also showed that investors had actually incorporated higher valuations into a company's stock price for those companies with good corporate governance practices.
We believe that more investors are increasingly recognizing that companies practicing good governance as part of a larger ESG-aware strategy are seeing those factors translate into improved long-term investments that can help reduce portfolio risk and enhance long-term growth.
As opportunities to invest in ESG securities and products increase, we believe it is important for savvy investors to learn about the factors involved in the governmental part of the ESG equation.
We invite you to learn more in our whitepaper, The Case for the Next Generation of ESG Investing.
FlexShares STOXX® US ESG Impact Index Fund (ESG) and the FlexShares STOXX® Global ESG Impact Index Fund (ESGG) are passively managed and use a representative sampling strategy to track their underlying index respectively. Use of a representative sampling strategy creates tracking risk where the Fund's performance could vary substantially from the performance of the underlying index. The Funds are subject to environmental, social and governance (ESG) Investment Risk, which is the risk that because the methodology of the Underlying Indices selects and assigns weights to securities of issuers for non-financial reasons, the Funds may underperform the broader equity market or other funds that do not utilize ESG criteria when selecting investments. The Funds are also at increased risk of industry concentration, where it may be more than 25% invested in the assets of a single industry. For ESGG, investments in foreign market securities involve certain risks such as currency volatility, political and social instability and reduced market liquidity. The Funds may also invest in derivative instruments. Changes in the value of the derivative may not correlate with the underlying asset, rate or index and the Funds could lose more than the principal amount invested.
The STOXX® USA ESG Impact Index and the STOXX® Global ESG Impact Index are the intellectual property (including registered trademarks) of STOXX® Limited, Zurich, Switzerland and/or its licensors ("Licensors"), which is used under license. The securities based on the Index are in no way sponsored, endorsed, sold or promoted by STOXX® and its Licensors and neither of the Licensors shall have any liability with respect thereto.
Written in conjunction with Chuck Epstein utilizing Contently. Chuck has written for a variety of financial publications and held senior level marketing-communications positions with the New York Futures Exchange, Chicago Mercantile Exchange and Zacks Investment Research.
---
[1] Dunstan Allison-Hope, "Corporate Transparency under a Trump Administration," Business for Social Responsibility, February 7, 2017, https://www.bsr.org/our-insights/blog-view/corporate-transparency-under-a-trump-administration.
[2] Organization for Economic Co-operation and Development, Methodology for Assessing the Implementation of the G20/OECD Principles of Corporate Governance, (Paris: OECD Publishing, 2017), http://dx.doi.org/10.1787/9789264269965-en.
[3] Paul Gompers, Joy Ishii, and Andrew Metrick, "Corporate Governance and Equity Prices," Quarterly Journal of Economics, 118, no. 1 (2003): 107-156, https://doi.org/10.1162/00335530360535162.
[4] Lucian Bebchuk, Alma Cohen, and Charles C.Y. Wang, "Learning and the Disappearing Association between Governance and Returns," National Bureau of Economic Research, Working Paper 15912, (Cambridge, MA: National Bureau of Economic Research, 2010), https://www.researchgate.net/publication/46467235_Learning_and_the_Disappearing_Association_Between_Governance_and_Returns.