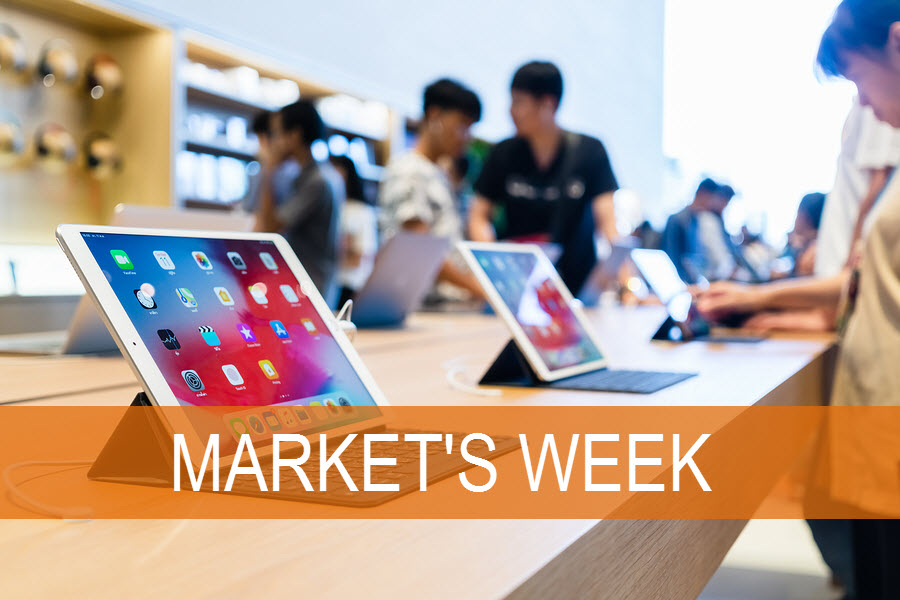 Apple (AAPL) and Qualcomm (QCOM) announced they have settled their patent dispute. Both companies' stocks moved higher, though Qualcomm gained more (just over 40% last week.) Find out more in this edition of "The Week in Review."
Last Week Review
Slight gain for global equities in holiday-shortened week. Global equities gained 0.1%, thanks to gains in non-U.S. developed markets (0.4%) and emerging markets (0.3%)1. U.S. equities (-0.2%) saw a small decline in a shorter trading week due to the Good Friday holiday2. In 2019 so far, returns remain comfortably in double digits across each major equity region, leading to a 15.4% return for global equities3. Fixed income markets were very stable last week, with Treasury yields largely unchanged4.
Flash PMI data in Europe moves in the right direction. Flash Purchasing Managers' Index (PMI) readings for the U.S., Germany and Europe were released last Thursday. The U.S. was in-line with the March reading at 52.4 on the manufacturing side but fell below expectations by about 2 points to 52.9 on the services side. European data was mixed. Europe and Germany manufacturing PMI figures were slightly better than March but came in below economist surveys and remain in contractionary territory. Services PMIs in Europe and Germany indicate a healthy consumer sector as they both lie in expansionary territory. In addition to growth data, inflation figures for the UK, Europe, and Japan remained close to prior levels, with one exception being Japan inflation which matched consensus expectations and moved somewhat higher.
U.S.-China trade negotiators aim for late May or early June signing date. Two rounds of trade talks are set to precede the targeted late May, or early June trade deal signing date. Removal of the current tariffs on Chinese goods, limiting China's government subsidies for companies in key industries and the handling of intellectual property remain as key issues that will likely need to be resolved over the coming month to stay on track. Odds of a deal being reached by late-May/early-June have risen notably but a delay is still very possible given the number of outstanding issues noted above. Also, this near-term deal will not solve everything. Instead, China-U.S. tensions will likely remain headline news for some time. Recent government stimulus efforts have helped stabilize China's economic growth outlook as industrial production and retail sales figures improved over the prior month on a year-over-year (y/y) basis5.
Lower earnings growth still above expectations. So far, 79 S&P 500 companies (16%) have reported earnings growth of 0.5% y/y and 2.6% y/y sales growth. Despite lower figures than the last few quarters, earnings and sales growth are ahead of consensus expectations by 4.2% and 0.3%, respectively6. In company-specific news last week, Apple (AAPL) and Qualcomm (QCOM) announced they have settled their patent dispute. Both companies' stocks moved higher, though Qualcomm gained more (just over 40% last week) given the removal of a key headwind to its earnings outlook7.
This Week Preview
Earnings season continues in an industrials-heavy week. Companies reporting out of the industrials sector will make up a bulk of the reports in the second full week of first quarter earnings season. These companies include 3M (MMM), Lockheed Martin (LMT), Caterpillar (CAT), Boeing (BA), United Technologies (UTX) and United Parcel Service (UPS)9. Communications services has many companies reporting as well including Verizon (VZ), AT&T (T), Comcast (CMCSA) and Facebook (FB). Additional companies from various other sectors include Coca-Cola (KO), Procter & Gamble (PG), Intel (INTC), Microsoft (MSFT), Starbucks (SBUX), Amazon (AMZN) and Exxon Mobil (XOM). Caterpillar, a stock viewed as a global economic bellwether, will likely hold investors' attention as the slowing global growth narrative remains a key investor concern8.
Japan in focus this week with economic data and BOJ meeting. In addition to the Bank of Japan (BOJ) meeting this Thursday, a number of economic data points will be released in Japan this week across retail sales, industrial production and employment. Japan currently plans to increase its consumption tax from 8% to 10% in October with the goal of funding education programs. Prime Minister Shinzo Abe's government will be reviewing economic data closely to determine if the tax hike is appropriate given the state of the economy, though would likely need to see considerable deterioration before deciding on a delay. Abe also heads to Washington this week where he is expected to discuss trade and North Korea with U.S. President Donald Trump9.
Click here to view the full report.
Unless otherwise noted, all opinions expressed in this post are those of the author and do not necessarily represent the views of Northern Trust. Information contained herein is current as of the date appearing only and is subject to change without notice.
End Notes
1) Bloomberg, MSCI ACWI (All Country World Index) returns 15Apr2019 – 19Apr2019. MSCI World ex-U.S.15Apr2019 – 19Apr2019. Bloomberg, MSCI Emerging Market Equities Index returns 15Apr2019 – 19Apr2019.
2) MSCI U.S. Equities IMI Index returns 15Apr2019 – 19Apr2019.
3) Bloomberg, MSCI Emerging Market Equities Index returns 02Jan2019 – 19Apr2019.
4) Bloomberg Barclays US Aggregate Bond Index returns 15Apr2019-19Apr2019. Treasury yield refers to the return on an investment in a U.S. government debt obligation, such as a bill, note or bond.
5) Zumbrum, Josh. Trade Deal Alone Won't Fix Strained U.S.-China Business Relations. Retrieved on 22Apr2019 from https://www.wsj.com/articles/trade-deal-alone-wont-fix-strained-u-s-china-business-relations-11555883476
6) Thomson Reuters. S&P 500 Earnings Dashboard. Retrieved 22Apr2019 from http://lipperalpha.financial.thomsonreuters.com
7) Imbert, Fred. CNBC. Apple and Qualcomm settled their legal battle. Here's what Wall Street Analysts are saying. Retrieved on 22Apr2019 from https://www.cnbc.com/2019/04/17/apple-qualcomm-settled-their-legal-battle-heres-what-wall-street-thinks.html
8) Kiesche, Liz. Seeking Alpha. Energy urges stocks up, real estate pulls down. Retrieved on 22Apr2019 from https://seekingalpha.com/news/3452431-energy-urges-stocks-real-estate-pulls
9) Huang, Eustance. CNBC. Stocks in Asia advance; BOJ chief flags concerns over trade protectionism. Retrieved on 22Apr2019 from https:// https://www.cnbc.com/2019/04/16/asia-markets-trade-currencies-in-focus.html
Past performance is no guarantee of future results. It is not possible to invest directly in any index and index performance returns do not reflect any management fees, transaction costs or expenses.