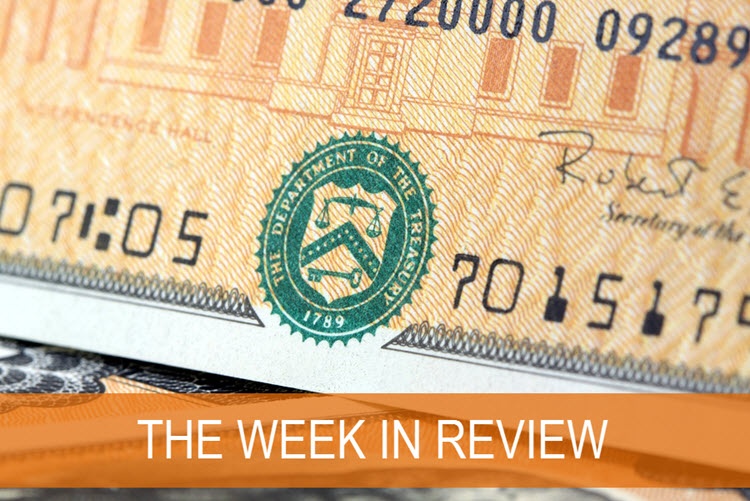 Equities flat for the year, 10-year Treasuries hit 3% and when will the Fed hike rates next? Find out more in this edition of "The Week in Review."
Last Week Review
Quiet week for global equities as 10-year U.S. Treasury tops 3%.1 Global equities declined 0.2%.2 U.S. equities were down small,3 while non-U.S. developed market equities dropped 0.3%4 and emerging market equities dropped 1.1%.5 The weekly declines leave the major regions largely flat year-to-date.6 U.S. Treasury yields continued to push higher early last week, with the 10-year U.S. Treasury yield peaking at 3.03%,7 before sliding back to 2.96% by week's end.8
Flash PMIs reveal stable global growth environment. Flash Purchasing Managers' Index (PMI) data was generally near prior levels in aggregate across the major regions. U.S. and Japan flash PMI figures both posted slight upticks from prior readings to 56.5 and 53.3, respectively, while Germany experienced a slight downtick to 58.1. Europe saw a somewhat larger decline from 56.6 to 56.0. Despite relatively unchanged readings across the major regions, they all remain well in expansionary territory (above 50). While no longer accelerating, the solid flash PMI readings are still consistent with a constructive global growth environment.
ECB and BOJ maintain interest rate policy. The European Central Bank (ECB) and Bank of Japan (BOJ) both left their main policy rates unchanged in meetings last week. ECB President Mario Draghi acknowledged that European growth had moderated a bit, but he expects this to be transitory. Despite the tempered growth outlook, Draghi said he remains confident that Europe is on a path to reach the ECB's 2% inflation goal. Draghi did not offer additional details around the ECB's potential exit from asset purchases in September, though many investors expect he may do this in June or July. Markets are not expecting an ECB rate hike until mid-2019 or later. The BOJ removed its target of hitting 2% inflation by March 2020. Markets considered this a dovish development, though the BOJ has postponed its inflation goal a few times before. BOJ growth and inflation forecasts were mostly unchanged, as well as the 10-year bond yield cap (0%) and the amount of asset purchases.
Strong headline earnings continue with a boost from tech. 266 S&P 500 companies (53%) have reported earnings so far, with earnings growth of 25.0% year-over-year (y/y) exceeding expectations by 7.0%.9 Revenue growth has also been above expectations at 9.7% y/y.10 Earnings results from large technology companies, including Microsoft (MSFT), Intel (INTC), and Facebook (FB), were strong last week, helping ease some investor concerns on the sector for the time being. Despite the robust earnings, the tech sector modestly underperformed the broader market for the week.
This Week Preview
Earnings season continues with health care. A variety of companies will report earnings this week including health care companies Pfizer (PFE) and Merck (MRK). Apple (AAPL) out of the technology sector will be widely followed after the other major tech releases last week. Other companies reporting include McDonald's (MCD) and Berkshire Hathaway (BRK/B).
Little expectation for a policy change at the May Fed meeting. The Federal Reserve (Fed) meeting this week concludes on Wednesday, where markets are expecting about a 34% probability of a rate hike. However, markets are pricing in about a 93% probability of a rate hike in the mid-June Fed meeting.11 The Fed is forecasting three rate hikes in 2018, but investors will look for clues following the Fed's meeting on Wednesday to see if the narrative on the interest rate path has changed. In addition to the Fed meeting, the U.S. will also see a number of key data releases this week including core Personal Consumption Expenditures (PCE), nonfarm payrolls added, average hourly earnings and the unemployment rate. Surveys expect core PCE to move up to 1.9% y/y, which can largely be attributed to the drop in cell phone services last year.
Europe inflation expected to remain near prior levels. Inflation data will be released in Germany and Europe this week. Surveys expect a Germany Consumer Price Index (CPI) reading of 1.5% y/y and a Europe core CPI figure of 0.9% y/y.
Click here to view the full report.
Unless otherwise noted, all opinions expressed in this post are those of the author and do not necessarily represent the views of Northern Trust. Information contained herein is current as of the date appearing only and is subject to change without notice.
---
End Notes
Bloomberg, 10-Year Treasury Rate 23Apr2018 - 27Apr2018.
Bloomberg, MSCI World Index returns 23Apr2018 – 27Apr2018.
Bloomberg, MSCI U.S. Equities IMI Index returns 23Apr2018 – 27Apr2018.
Bloomberg, MSCI ex-U.S. Equities IMI Index returns 23Apr2018 – 27Apr2018.
Bloomberg, MSCI Emerging Market Equities Index returns 23Apr2018 – 27Apr2018.
Bloomberg, The major regions returns are the MSCI U.S. Equities IMI Index returns , MSCI ex-U.S. Equities IMI Index returns and the MSCI Emerging Market Equities Index returns 02Jan2018 – 27Apr2018.
Bloomberg, 10-Year Treasury Rate 26Apr2018.
Bloomberg, 2-Year Treasury Rate 27Apr2018.
Aurelio, D. "S&P 500 Earnings Dashboard, Apr. 27." Thomson Reuters. Retrieved on April 27, 2018 from http://lipperalpha.financial.thomsonreuters.com/2018/04/sp-500-17q1-earnings-dashboard/.
Bloomberg, Fed Funds Futures Index 27Apr2018. Fed funds futures are used by banks and fixed-income portfolio managers to hedge against fluctuations in the short-term interest rate market. They are also a common tool traders use to take speculative positions on future Federal Reserve monetary policy.