.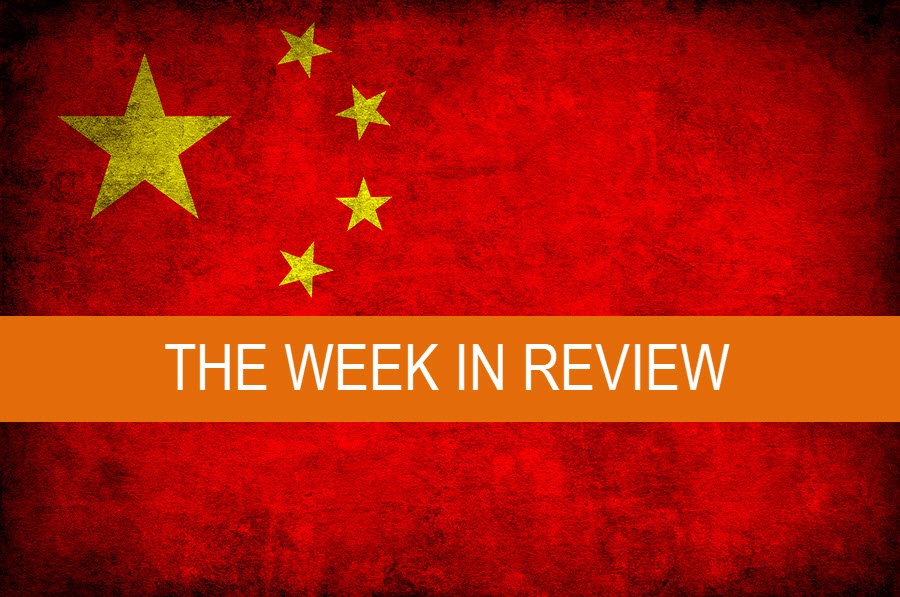 U.S.-China trade talks resume after brief hiatus. Will the markets continue to be unaffected by the Cohen and Manafort convictions? Find out more in this edition of "The Week in Review."
Last Week Review
Markets unaffected by the Cohen and Manafort convictions. President Trump's former campaign boss Paul Manafort and personal lawyer Michael Cohen plead guilty to separate charges by the U.S. government last week. Cohen reached a plea deal that included allegations that then – candidate Trump was involved in paying off two women alleging affairs. Unaffected by the news, U.S. equities returned 1.0% for the week.1 Non-U.S. developed markets and emerging market equities helped drive global equities higher to a 1.3% return.2 Year-to-date, U.S. equities (9.4%) 3 are keeping global equities (3.1%) 4 from negative territory as emerging markets (-7.8%) and non-U.S. developed markets (-2.1%) struggle.5
Flash PMI reflects modest slowing across the major regions. Japan, Germany, Europe and the United States posted Flash Purchasing Managers' Index (PMI)* data last Wednesday and Thursday, with all regions remaining what we believe to be, expansionary. Japan (52.5) moved slightly higher from prior levels, while Germany (56.1), Europe (54.6) and the United States (54.5) all dipped below prior readings and consensus expectations. Services PMI remain healthy across all regions as well. Germany moved well above surveys and prior levels, while Europe and the United States moved lower.6
U.S.-China trade talks resume after brief hiatus with no real progress. Concurrent with the round of $16 billion in tariffs going into effect for the U.S. and China on Thursday, officials from both sides met to continue negotiations. Neither the U.S. nor China has moved forward with a material compromise to bring the trade spat to a halt. The U.S. will continue to make Chinese investment in the U.S. difficult and seek additional efforts to pressure China with officials from the EU and Japan. Further tariffs on $200 billion worth of goods from China are still in motion and could go into effect shortly after the comment period on September 6.
Fed Chair Powell reemphasizes gradual rate path at Jackson Hole Symposium. Powell noted that the central bank is working to gradually raise rates while navigating the two risks of moving too quickly, which might unnecessarily end the economic expansion and moving too slowly, allowing the market to overheat. Minutes from the last Fed meeting were released last week, which confirmed plans to raise interest rates to the 2% - 2.25% channel. Other developments from the meeting include the possibility of removing the term "accommodative" to describe policy as short-term rates move to the neutral rate. Language from the Fed will be closely followed as further rate hikes have the potential to invert the yield curve.7 The 10-year U.S. Treasury yield (2.81%) ended the week 19 basis points above the 2-year U.S. Treasury yield (2.62%).8
This Week Preview
Only 3% of S&P500 companies left to report earnings. Earnings season is wrapped up for the most part with the exception of a few sectors. Aggregate year-over-year earnings growth (25.4%) and revenue growth (9.8%) have topped consensus expectations in the second quarter.9 The majority of companies left to report will come out of the consumer discretionary and information technology sectors. Notable companies from those sectors reporting this week include Tiffany & Co. (TIF) on Tuesday and Salesforce.com (CRM) on Wednesday.
The Fed's preferred inflation measure is expected to hit target levels. Surveys show core Personal Consumption Expenditure (PCE)* hitting 2.0% on a year-over-year (y/y) basis this Friday. Core PCE has hovered around 1.9% y/y since a large uptick in March.10 Germany and Europe will also post inflation measures on Thursday and Friday. Consensus expectations show Germany headline Consumer Price Index (CPI)* (2.0% y/y) and Europe's core CPI (1.1%) posting August readings in line with July. Europe's flash CPI measure is also expected to come in line with readings from last month at 2.1% y/y.11
Economic data to show current tariff impacts. Tuesday's release of the U.S. trade balance will provide information on how much the tariffs have affected trade so far. The survey estimate $69 billion in goods be added to the deficit is higher than each of the last four months.
Click here to view the full report.
Unless otherwise noted, all opinions expressed in this post are those of the author and do not necessarily represent the views of Northern Trust. Information contained herein is current as of the date appearing only and is subject to change without notice.
End Notes
1) Bloomberg, MSCI U.S. Equities IMI Index returns 20Aug2018 – 24Aug2018.
2) Bloomberg, MSCI ex-U.S. Equities IMI Index and MSCI Emerging Market Equities Index returns 20Aug2018 – 24Aug2018.
3) Bloomberg, MSCI U.S. Equities IMI Index returns 02Janl2018 – 24Aug2018.
4)Bloomberg, MSCI World Index returns 02Janl2018 – 24Aug2018.
5) Bloomberg, MSCI ex-U.S. Equities IMI Index and MSCI Emerging Market Equities Index returns 02Janl2018 – 24Aug2018.
6) PMI by HIS Markit Economics, week of 8August2018
7) Bloomberg, Yield curve as of 20Aug2018 and is constructed by plotting a sessions final yields for various maturities including 1-month, 3-month, 6-month, 1-year, 2-year, 3-year, 5-year, 7-year, 10-year, 20-year and 30-year maturities. In this example, we are comparing the yield as of a certain date between the 2-year and the 10-year maturing instruments.
8) Bloomberg, 10-Year Treasury Rate 20Aug2018. Bloomberg, 2-Year Treasury Rate 24Aug2018. Basis Point (BPS) refers to a common unit of measure for interest rates and other percentages in finance. One basis point is equal to 1/100th of 1%, or 0.01%, or 0.0001, and is used to denote the percentage change in a financial instrument.
9) Thomson Reuters. S&P 500 Earnings Dashboard. Retrieved 17Aug2018 from http://lipperalpha.financial.thomsonreuters.com/2018/08/this-week-in-earnings-9/.
10) Bloomberg. 12-Month Percentage Change – Core Personal Consumption 24Aug2018. Reported monthly by the Bureau of Economic Analysis, Department of Commerce. The personal consumption expenditure price index (PCEPI) is one measure of U.S. inflation, tracking the change in prices of goods and services purchased by consumers throughout the economy. Of all the measures of consumer price inflation, the Federal Reserve believes that the PCEPI includes the broadest set of goods and services.
11) Federal Reserve Bank of St. Louis, The breakeven inflation rate represents a measure of expected inflation derived from 10-Year Treasury Constant Maturity Securities and 10-Year Treasury Inflation-Indexed Constant Maturity Securities and implies what market participants expect inflation to be, on average, in the next 10 years as of 02Janl2018 – 24Aug2018.
Definitions *
Purchasing Managers Report
Investopedia. "A PMI of more than 50 represents expansion of the manufacturing sector when compared to the previous month. A PMI reading under 50 represents a contraction, and a reading at 50 indicates no change. The Institute of Supply Management (ISM) generates the PMI each month." Retrieved on 24Aug2018 from https://www.investopedia.com/terms/p/pmi.asp.
Personal Consumption Expenditures
Personal consumption expenditures (PCE), or the PCE Index, measures price changes in consumer goods and services. Expenditures included in the index are actual U.S. household expenditures. Data that pertains to services, durables and non-durables are measured by the index. Similar to the consumer price index (CPI), the PCE is part of the personal income report issued by the Bureau of Economic Analysis of the Department of Commerce.
Consumer Price Index
The Consumer Price Index (CPI) is a measure that examines the weighted average of prices of a basket of consumer goods and services, such as transportation, food and medical care. It is calculated by taking price changes for each item in the predetermined basket of goods and averaging them. Changes in the CPI are used to assess price changes associated with the cost of living; the CPI is one of the most frequently used statistics for identifying periods of inflation or deflation.
Past performance is no guarantee of future results. It is not possible to invest directly in any index and index performance returns do not reflect any management fees, transaction costs or expenses.