.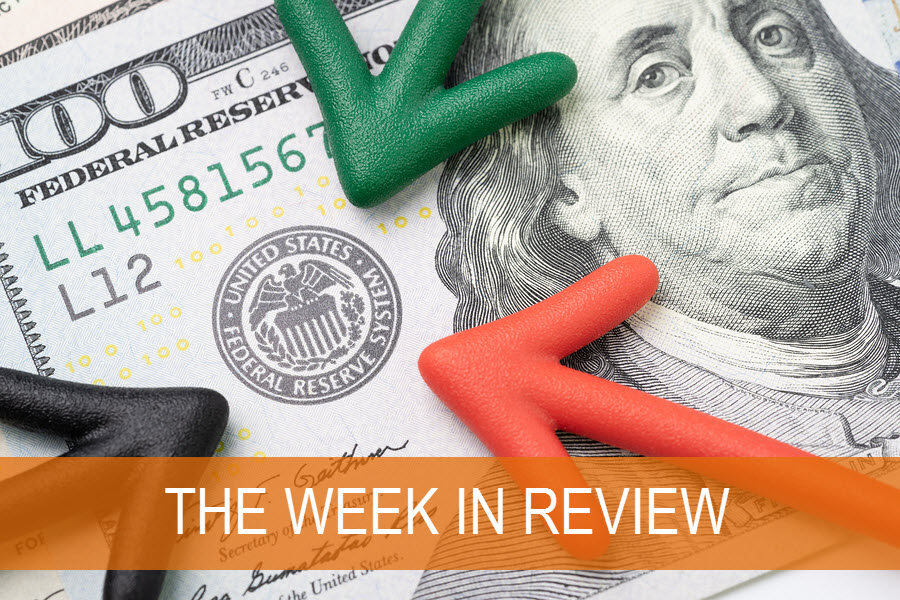 Global equities slide, core inflation ticks up and will Euro inflation stay calm? Find out more in this edition of "The Week in Review."
Last Week Review
Global equities slide lower following pressures on Emerging Markets. Global equities dropped by 0.7% last week,1 driven by non-U.S. developed markets (-1.4%)2 and emerging markets (-1%).3 U.S. equities (0.0%) were largely flat for the week.4 Concerns on Turkey and Russia led to a 1.5% drop in emerging market equities last Friday.5 While Turkey and Russia make up a relatively small amount of the MSCI Emerging Markets Index, significant headlines on these countries can negatively weigh on sentiment across broader emerging market equities in the near term. In 2018 so far, U.S. equities (7.7%)6 are now more than 10% ahead of both non-U.S. developed market (-2.5%)7 and emerging market equities (-6.7%).8
U.S. core inflation ticks higher. Last Friday's U.S. core Consumer Price Index (CPI) reading of 2.4% year-over-year (y/y) was slightly higher than both consensus expectations and the prior level. Headline inflation remained in-line with both the prior level and consensus expectations at 2.9% y/y. We believe markets utilizing the Fed Funds Futures Index as a proxy for sentiment continue to fully expect a rate hike in the Federal Reserve's September meeting and a roughly 50% probability of a hike in the December meeting.9 In addition, Chicago Fed President Charles Evans – known for his dovish views – surprised markets with comments last week that the Fed may need to raise rates to contain economic growth over the next few years.
Ohio early election serves as unofficial start to midterm election season. GOP candidate Troy Balderson appears to have won a House seat in Ohio in a closely followed special election. Looking ahead to the November midterms, the House of Representatives race is expected to be closely contested. Recent polls have shown a roughly 5% advantage for Democrats in generic ballot polling. The Cook Political Report shows Democrats having more likely safely held seats, meaning the GOP would need to win more seats in competitive races to maintain its House majority. In the Senate, the GOP currently holds a two seat majority, though Democrats will have to defend 26 out of 35 seats that are up for election.
Second quarter earnings momentum continues. 451 S&P 500 companies have reported results so far. Aggregate year-over-year earnings growth of 25.6% is above expectations by about 5%. Revenue growth is also above expectations at 10.1% y/y.10 Of the more heavily weighted sectors in the S&P 500, the technology sector has posted the highest earnings growth at 36.9% y/y.11 Technology leads the market year-to-date,12 but performance has moderated in the past few months.13 Even with the struggles of some high profile technology stocks like Facebook (FB), the S&P 500 still shows a healthy return over the last month at 1.6%.14
This Week Preview
Second quarter earnings season winding down. Fewer companies are reporting earnings as the second quarter earnings season nears the finish line. Notable companies reporting include Home Depot (HD) and Walmart (WMT). Deere & Co. (DE) reporting out of the industrials sector concludes the week on Friday.
No major changes expected in Europe inflation data. Germany (Tuesday), the UK (Wednesday) and Europe (Friday) will all post inflation figures this week. In its August meeting, the Bank of England (BOE) moved interest rates higher to 0.75%, partly to keep inflation contained and moving back toward the 2% target. Wednesday's UK headline inflation (2.5% y/y expected) and core inflation (1.9% y/y) releases may help determine whether the BOE looks to raise rates again in the near future. The European Central Bank (ECB) plans to leave rates unchanged through mid-2019 but would like to see inflation move gradually higher over the next year. Surveys expect Germany headline inflation to come in at 2.0% y/y. Finally, both headline and core Europe inflation are expected to remain close to prior readings at 2.1% y/y and 1.1% y/y, respectively.
Brexit talks resume with deadline roughly seven months away. The European Union (EU) and UK will meet in Brussels to continue Brexit negotiations. The EU wishes to wrap up the talks in September while the UK prefers a conclusion by late fall. The EU and UK would have to agree on terms prior to March 2019 when Brexit goes into effect.
Click here to view the full report.
Unless otherwise noted, all opinions expressed in this post are those of the author and do not necessarily represent the views of Northern Trust. Information contained herein is current as of the date appearing only and is subject to change without notice.
End Notes
1.Bloomberg, MSCI World Index returns 06Aug2018 – 10Aug2018.
2.Bloomberg, MSCI ex-U.S. Equities IMI Index 06Aug2018 – 10Aug2018.
3.Bloomberg, MSCI Emerging Market Equities Index returns 06Aug2018 – 10Aug2018.
4.Bloomberg, MSCI U.S. Equities IMI Index returns 06Aug2018 – 10Aug2018.
5.Bloomberg, MSCI Emerging Market Equities Index returns 10Aug2018.
6.Bloomberg, MSCI U.S. Equities IMI Index returns 02Janl2018 – 10Aug2018.
7.Bloomberg, MSCI ex-U.S. Equities IMI Index returns 02Janl2018 – 10Aug2018.
8.Bloomberg, MSCI Emerging Market Equities Index returns 02Janl2018 – 10Aug2018.
9.Bloomberg, Fed Funds Futures Index 10Aug2018. Fed funds futures are used by banks and fixed-income portfolio managers to hedge against fluctuations in the short-term interest rate market. They are also a common tool traders use to take speculative positions on future Federal Reserve monetary policy.
10.Thomson Reuters. S&P 500 Earnings Dashboard. Retrieved 10Aug2018 from http://lipperalpha.financial.thomsonreuters.com/2018/13/sp-500-17q1-earnings-dashboard/.
11.Bloomberg. S&P 500® Technology Index return performance year over year comparison between 10Aug2016 – 10Aug2017 compared to 10Aug2017 – 10Aug2018. Comprising those companies included in the S&P 500 that are classified as members of the GICS® technology sector. The Global Industry Classification Standard (GICS) is an industry taxonomy developed in 1999 by MSCI and Standard & Poor's (S&P) for use by the global financial community. The GICS structure consists of 11 sectors, 24 industry groups, 68 industries and 157 sub-industries into which S&P has categorized all major public companies. GICS is used as a basis for S&P and MSCI financial market indexes in which each company is assigned to a sub-industry, and to a corresponding industry, industry group and sector, according to the definition of its principal business activity.
12.Bloomberg. S&P 500® Technology Index performance returns 02Jan2018 – 10Aug2018.
13.Bloomberg. S&P 500® Technology Index performance returns 01May2018 – 10Aug2018.
14.Bloomberg, S&P500 Index return performance month over month comparison between 10Jun2018 – 10Jul2018 compared to 10Jul2018 – 10Aug2018.