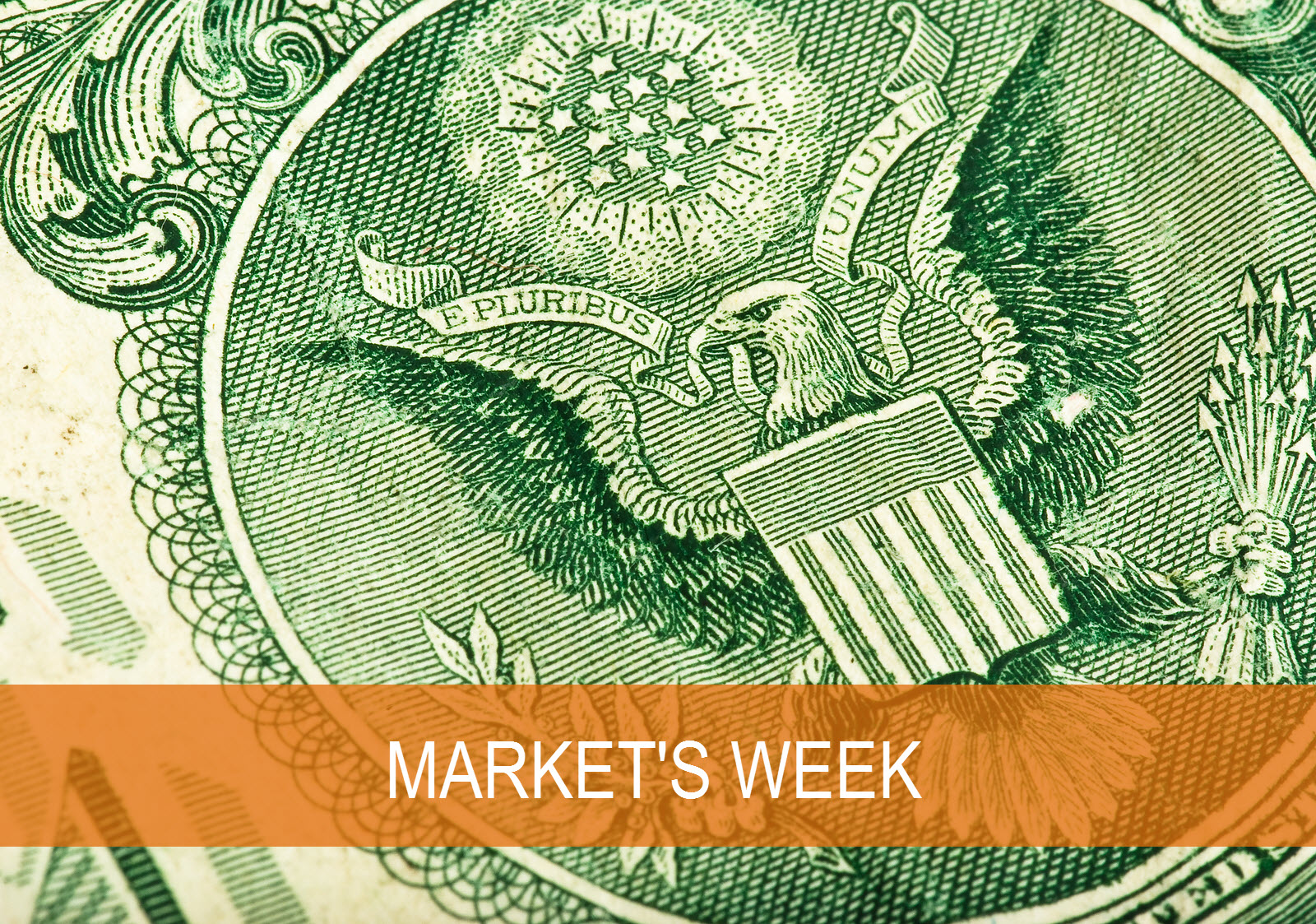 How will dovish tone by the Fed and a Chinese economic slowdown impact your client's portfolios? Find out more in this edition of "The Week in Review."
Last Week Review
Global equities recover after tough Monday. Global equities began last week in decline caused by news of guidance cuts from companies impacted by slower Chinese growth only to bounce back on dovish Federal Reserve (Fed) comments. 1 Global equities moved 1.5% higher last week led by emerging market equities up 1.7%. 2 Some steepness was added back to the yield curve as the 10-year Treasury is now 18 basis points above the 2-year Treasury. 3
Trade negotiations in Washington end without a resolution. The U.S.-China trade talks ended last Thursday without a major breakthrough. U.S. President Donald Trump discussed meeting with China President Xi Jinping in the near future to work out the more difficult issues, like the handling of intellectual property. If an agreement is not reached by March 1, U.S. tariffs on $200 billion of Chinese goods will escalate from 10% to 25%. In the U.K., parliament passed the Brady amendment that would replace the Irish backstop with alternative arrangements. U.K. Prime Minister Theresa May must renegotiate arrangements by February 13 with the European Union (EU) and see the deal through parliament. A delay of the March 29 deadline is still the most likely scenario as the EU has taken a hard stance on the backstop.
The Fed takes a dovish tone in 2019's first meeting. Citing low inflation and risks to the global economy, the Federal Reserve put further interest rate increases on hold and announced it will hold a greater amount of Treasurys on the balance sheet than originally planned when the wind-down began in 2017. 4 We believe slower growth in China and Europe as well as political uncertainties with Brexit and the recent government shutdown were reasons for the Fed's pause. Our opinion is that the Fed's updated mindset is likely to keep U.S. dollar strength in check and yields lower. Emerging market and U.S. equities responded favorably on Wednesday up 0.7% and 1.5%, respectively. 5 Markets are expecting only a 5% chance of a rate hike in 2019 and almost 15% chance of a rate cut. 6
Jobs report surprises despite government shutdown. The jobs added figure of 304k jobs added easily surpassed estimates though December's figure was revised down to 222k. Wage inflation (3.2% year-over-year) declined from an upwardly revised 3.3% y/y December figure and the unemployment rate (4.0%) increased slightly along with the labor force participation rate (63.2%). 7
Slower growth projections lead to guidance cuts. 234 S&P 500 companies (47%) have reported earnings with aggregate year-over-year earnings growth of 14.6% and revenue growth of 6.0%. 8
This Week Preview
About half of companies remain to report for Q4. Google (GOOGL) and Walt Disney (DIS) are two of the more notable companies to report earnings this week. A bulk of the remaining companies left to release earnings come out of the consumer discretionary, health care and information technology sectors. 9 We believe investors will look to see if earnings growth and revenue numbers continue above consensus expectations.
State of the Union to be held on Tuesday. President Trump will address Congress where he will likely discuss his victories with economic growth due to tax cuts, job creation, and his opinions on immigration. In addition to the State of the Union, scenarios for the U.S. bank stress test should be released over the next two weeks.
Bank of England unlikely to change policy amid Brexit uncertainty. The Bank of England will meet on Thursday with little expectation for monetary policy changes. Declining inflation and increased uncertainty surrounding Brexit are likely to keep the monetary policy unchanged in the near term. Important economic data flowing through the week includes the delayed release of the U.S. core personal consumption expenditures index, which is expected to stabilize at 1.9% y/y, and final service and composite Purchasing Managers' Index figures.
Click here to view the full report.
Unless otherwise noted, all opinions expressed in this post are those of the author and do not necessarily represent the views of Northern Trust. Information contained herein is current as of the date appearing only and is subject to change without notice.
End Notes
1) Bloomberg. MSCI ACWI (All Country World Index) returns 28Jan2019 – 01Feb2019.
2) Bloomberg. MSCI ACWI (All Country World Index) and MSCI Emerging Market Equities Index returns 28Jan2019 – 01Feb2019.
3) Bloomberg. Yield curve as of 01Feb2019 and is constructed by plotting a sessions final yields for various maturities including 1-month, 3-month, 6-month, 1-year, 2-year, 3-year, 5-year, 7-year, 10-year, 20-year and 30-year maturities. In this example, we are comparing the yield as of a certain date between the 2-year and the 10-year maturing instruments rates. Basis Point (BPS) refers to a common unit of measure for interest rates and other percentages in finance. One basis point is equal to 1/100th of 1%, or 0.01%, or 0.0001, and is used to denote the percentage change in a financial instrument.
4) Federal Open Market Committee. (January 30, 2019). Chairman Powell's Press Conference [Interview transcript]. Retrieved on 04Feb2019 from https://www.federalreserve.gov/mediacenter/files/FOMCpresconf20190130.pdf.
5) Bloomberg, MSCI Emerging Market Equities Index and MSCI U.S. Equities IMI Index returns 30Jan2019.
6) Bloomberg, Fed Funds Futures Index 01Feb2019. Fed funds futures are used by banks and fixed-income portfolio managers to hedge against fluctuations in the short-term interest rate market. They are also a common tool traders use to take speculative positions on future Federal Reserve monetary policy.
7) Morath, Eric. Economy Notches 100th Straight Month of Increased Employment. Wall Street Journal. Retrieved on 01Feb2019 from https://www.wsj.com/articles/u-s-employers-added-304-000-jobs-in-january-unemployment-ticked-up-due-to-shutdown-11549028008.
8) Thomson Reuters. S&P 500 Earnings Dashboard. Retrieved 04Feb2019 from http://lipperalpha.financial.thomsonreuters.com/2019/02/sp-500-17q1-earnings-dashboard/.
9) Bloomberg. The Global Industry Classification Standard (GICS) is an industry taxonomy developed in 1999 by MSCI and Standard & Poor's (S&P) for use by the global financial community. The GICS structure consists of 11 sectors, 24 industry groups, 68 industries and 157 sub-industries into which S&P has categorized all major public companies. GICS is used as a basis for S&P and MSCI financial market indexes in which each company is assigned to a sub-industry, and to a corresponding industry, industry group and sector, according to the definition of its principal business activity. In this instance, we are referring to three separate sectors Consumer Discretionary, Healthcare and Information Technology.
Past performance is no guarantee of future results. It is not possible to invest directly in any index and index performance returns do not reflect any management fees, transaction costs or expenses.