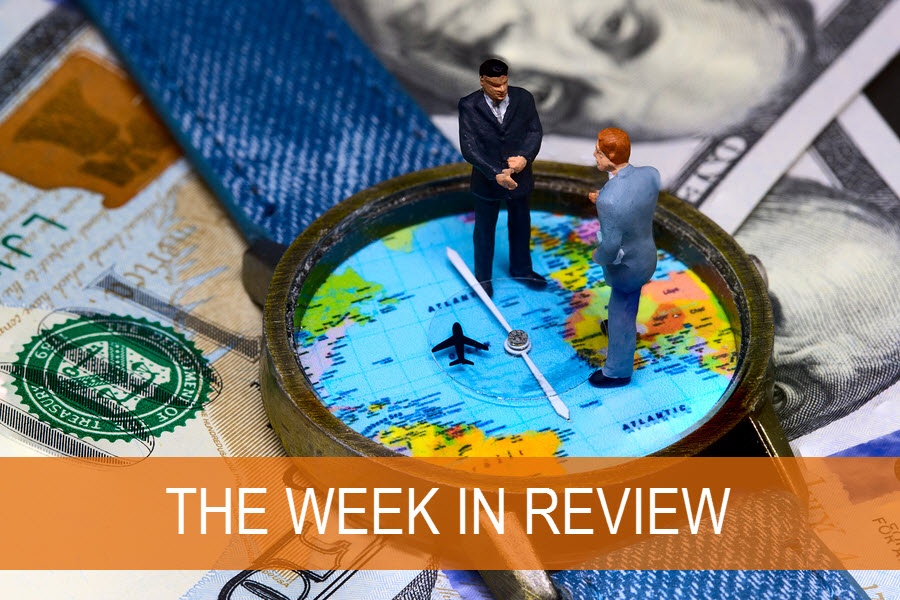 Rough four weeks for Emerging Markets, no surprise in U.S. inflation and will tariffs weigh on the market? Find out more in this edition of "The Week in Review."
Last Week Review
Emerging markets finish higher after four difficult weeks. Global equities finished 1.1% higher last week driven1 mainly by U.S. and emerging market equities up 1.3% and 1.7%, respectively.2 Non-U.S. developed equities finished roughly flat (0.2%).3 Year-to-date, non-U.S. developed and emerging market equities remain in negative territory (-1.6% and -5.8%, respectively).4 However, the U.S. is solidly in positive territory year-to-date with a 6.5% return,5 which has managed to keep global equities afloat at 1.9%.6
U.S. threatens China with further trade measures. President Trump proposed additional 10% tariffs on $200 billion worth of imports from China. The measures would not be implemented until late August at the earliest. China did not react favorably to the announcement, vowing to retaliate with further trade actions of its own. President Trump travelled to Europe last week, where he continued to raise issues with traditional U.S. allies, such as heavily criticizing Germany's energy supply deal with Russia and the UK's approach to Brexit, though he softened his tone on the UK's Brexit plan in subsequent comments.
No surprises in U.S. inflation data. U.S. Consumer Price Index (CPI) data was released last Thursday, with headline and core CPI ticking up to 2.9% year-over-year (y/y) and 2.3% y/y, respectively. Both figures were in-line with consensus expectations and did not upset the financial markets. Despite many headlines on trade tensions, the NFIB Small Business Optimism index came in ahead of consensus and remained near record-high levels.7 Also, consumer sentiment data released late last week modestly topped consensus and the prior reading. We believe sentiment metrics will be followed by investors as they look to see how potential tariffs impacts business and consumer optimism. In the meantime, U.S. economic data has remained robust and the Atlanta Fed GDPNow forecast for 2Q2018 is estimating growth at 3.9%.8
May releases more detail on Brexit plans. UK Prime Minister Theresa May released a report last week outlining her government's approach to Brexit. The plan seeks to maintain a free trade area with the European Union (EU). Despite making some progress in recent weeks, May still faces a tough road ahead on Brexit, as two key Brexit voices in her cabinet – Brexit Secretary David Davis and Foreign Secretary Boris Johnson – resigned last week. Uncertainty remains over Brexit as May seeks to maintain support from her Conservative Party. In addition, the EU is likely to object to a number of components of the UK's most recent set of Brexit proposals.
This Week Preview
Second quarter earnings continues with Financials. Notable companies from the Financials sector report throughout the week including Bank of America (BAC), Goldman Sachs (GS) and American Express (AXP). Additional companies reporting earnings from various sectors include Johnson & Johnson (JNJ), Union Pacific Corp. (UNP), General Electric (GE), Schlumberger (SLB) and Microsoft (MSFT).
Fed Chair Powell appears in semi-annual testimony to Congress. With the spread between the 10-year and 2-year U.S. Treasury yields at a narrow 25 basis points,9 investors will be following Federal Reserve Chair Jerome Powell's testimony for details on the Fed's outlook for rate hikes moving forward. It remains to be seen if the flatness of the yield curve10 affects monetary policy decisions especially with inflation near target levels and growth remaining strong. Fed Funds futures currently place a roughly 85% probability of a hike in the September meeting.11
Markets continue to look for trade impacts on economic data. As trade measures have gone into effect in both the U.S. and China, investors will look to see if the tariffs are starting to weigh on economic data. China's retail sales are expected to increase to 8.8% y/y while industrial production and fixed asset investment are expected to tick down to 6.5% y/y and 6.0% y/y, respectively. On a month-over-month basis in the U.S., we believe industrial production is expected to jump to 0.5%, up from -0.1% the month prior.
Click here to view the full report.
Unless otherwise noted, all opinions expressed in this post are those of the author and do not necessarily represent the views of Northern Trust. Information contained herein is current as of the date appearing only and is subject to change without notice.
---
End Notes
1) Bloomberg, MSCI World Index returns 09Jul2018 – 13Jul2018.
2) Bloomberg, MSCI U.S. Equities IMI Index and MSCI Emerging Market Equities Index returns 09Jul2018 – 13Jul2018.
3) Bloomberg, MSCI ex-U.S. Equities IMI Index returns 09Jul2018 – 13Jul2018.
4) Bloomberg, MSCI ex-U.S. Equities IMI Index and the MSCI Emerging Market Equities Index returns 02Jan2018 – 13Jul2018.
5) Bloomberg, MSCI U.S. Equities IMI Index returns 02Jan2018 – 13Jul2018.
6) Bloomberg, MSCI World Index returns 02Jan2018 – 13Jul2018.
7) NFIB Research Foundation. NFIB Small Business Optimism Index (NFIB). June 2018. https://www.nfib.com/surveys/small-business-economic-trends/.
8) Federal Reserve Bank of Atlanta, as of 01May2018 – 29Jun2018. The growth rate of real gross domestic product (GDP) is a key indicator of economic activity, but the official estimate is released with a delay. The GDPNow forecasting model provides a "nowcast" of the official estimate prior to its release by estimating GDP growth using a methodology similar to the one used by the U.S. Bureau of Economic Analysis. GDPNow is not an official forecast of the Atlanta Fed. Rather, it is best viewed as a running estimate of real GDP growth based on available data for the current measured quarter. There are no subjective adjustments made to GDPNow—the estimate is based solely on the mathematical results of the model.
9) Bloomberg, In this analysis we are making a comparison between the difference of the 2-Year nominal Treasury rates versus the 10-Year nominal Treasury rates using data available as of 13Jul2018.
10) Bloomberg, Yield curve is constructed by plotting a sessions final yields for various maturities including 1-month, 3-month, 6-month, 1-year, 2-year, 3-year, 5-year, 7-year, 10-year, 20-year and 30-year maturities. One basis point is equal to 1/100th of 1%, or 0.01%, or 0.0001, and is used to denote the percentage change in a financial instrument.
11) Bloomberg, Fed Funds Futures Index 13Jul2018. Fed funds futures are used by banks and fixed-income portfolio managers to hedge against fluctuations in the short-term interest rate market. They are also a common tool traders use to take speculative positions on future Federal Reserve monetary policy.