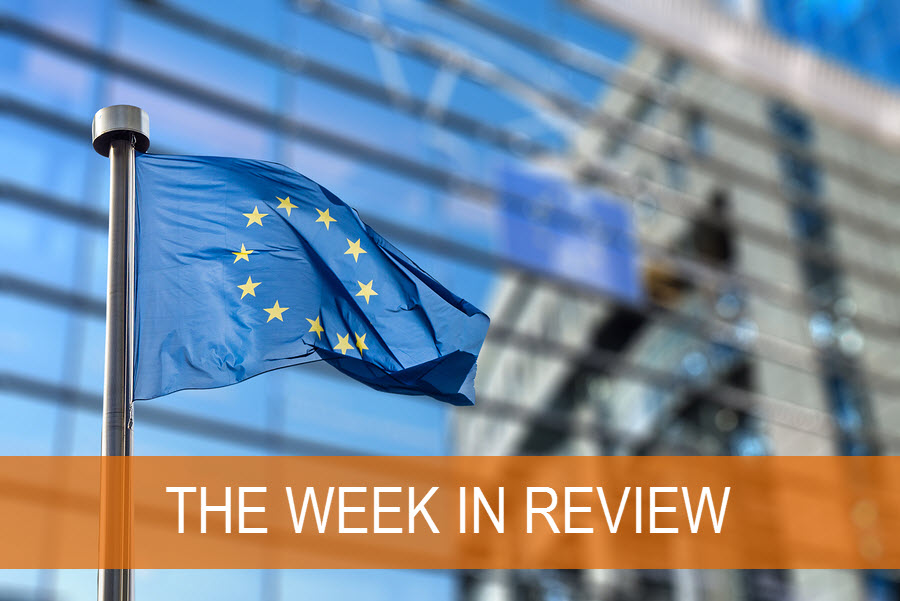 Finally light relief for Emerging Markets, tech companies take center stage and will the ECB end the stimulus program? Find out more in this edition of "The Week in Review."
Last Week Review
Emerging markets see some relief late last week. Emerging market equities traded materially higher last Friday.1 Equity returns were relatively quiet last week across the U.S. (+0.1%),2 non-U.S. developed markets (+0.5%)3 and emerging markets (-0.5%).4 Global equities remain in positive territory year-to-date (2.1%).5 The U.S. yield curve saw some relief from recent flattening, with the 10-year U.S. Treasury yield (2.89%) now sitting 30 basis points above the 2-year U.S. Treasury yield (2.59%).6
The Fed plans to gradually raise interest rates "for now". Federal Reserve (Fed) Chair Jerome Powell testified before Congress last week where he shared an upbeat assessment of the U.S. economic backdrop. Powell caught the market's attention with his comment that the Fed remains on track to gradually raise interest rates "for now". The qualifying statement implies that Fed leaders may be starting to realize that they will not be able to raise rates as much as they would like, especially given the flattening yield curve.7 Also last week, Fed governor Neel Kashkari explained in a blog post his view that the Fed should take a pause on rate hikes so it doesn't risk inverting the yield curve. Finally, President Trump weighed in on the Fed's actions last week – breaking a custom among U.S. presidents to never opine on monetary policy – noting he was not pleased about the pace at which the Fed is hiking rates. Trump's comments add to the obstacles the Fed faces as it sets monetary policy. Market expectations for a September Fed rate hike currently sit at 90%.8
May continues to trudge forward on Brexit. UK Prime Minister Theresa May faced heightened tensions between factions within her own Conservative Party last week on issues pertaining to Brexit. May was forced to accept changes to the Brexit plan calling for stricter customs arrangements. In response, pro-European Conservatives put forward a vote to keep the UK in the European Union (EU) customs union. This measure failed to pass in a close vote, allowing May to continue to move forward with her Brexit plan. Elsewhere in Europe, inflation data for Europe was generally in-line with expectations and prior levels. Headline inflation sits at 2.0% year-over-year (y/y), while core inflation ticked down from the prior level to 0.9% y/y.
Robust earnings growth continues in second quarter earnings. Earnings season is well underway in the U.S., where 85 S&P 500 companies (17%) have reported results so far. Aggregate earnings growth (22.5% y/y) and revenue growth (10.1% y/y) are both ahead of consensus estimates at this point. Both growth metrics are fairly close to levels observed in 1Q2018.9
This Week Preview
Large tech companies take center stage with earnings releases. Large technology companies will be reporting earnings throughout the week including Alphabet (GOOGL), Facebook (FB), Intel (INTC) and Amazon (AMZN). Additional companies reporting this week include Lockheed Martin (LMT), McDonald's (MCD), and Starbucks (SBUX).
Modest softening expected in flash PMI data. Flash manufacturing Purchasing Managers' Index (PMI) data will be released early this week. The U.S. is expected to remain ahead of Europe after trailing throughout early 2018. However, both regions are expected to move modestly lower from prior levels. Consensus expectations show the U.S. flash reading dropping from 55.4 to 55.1 and the Europe figure moving down from 54.9 to 54.7. Investors will be looking at the flash PMI data to confirm that the global growth outlook is not significantly deteriorating due to rising trade tensions. Overall, all the major regions are expected to remain in expansionary territory (above 50).
ECB expected to remain on track to end stimulus program. The July meeting for the European Central Bank (ECB) takes place this Thursday. Markets are not expecting any kind of policy change, though will be paying close attention to ECB President Mario Draghi's assessment of Europe's economy. The ECB has previously announced a plan to end its asset purchase program by the end of 2018, while also communicating that a rate hike will not take place until the second half of 2019 at the earliest.
Click here to view the full report.
Unless otherwise noted, all opinions expressed in this post are those of the author and do not necessarily represent the views of Northern Trust. Information contained herein is current as of the date appearing only and is subject to change without notice.