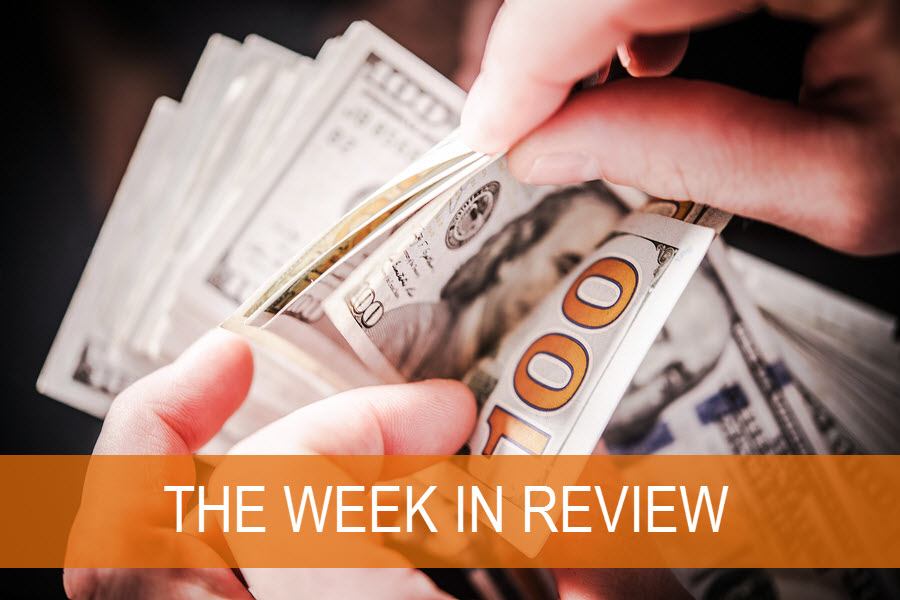 Yield curve continues to flatten, China responds to tariffs and will earnings growth continue? Find out more in this edition of "The Week in Review."
Last Week Review
U.S. equities led global equities higher as yield curve flattened. The U.S. led major equity regions last week with a 1.7% return, 1 while non-U.S. developed markets gained 0.4%2 and emerging markets lost 0.7%.3 Year-to-date, global equities are barely positive at 0.8%4 – buoyed by U.S. equities at 5.1%.5 Emerging markets have declined the most in 2018, down 7.4%.6 The spread between the 10-year and 2-year U.S. Treasury yields narrowed further to 0.28% basis points.7
China responded to U.S. trade measures. U.S. tariffs on $34 billion worth of imports from China went into effect last Friday. China matched the U.S. dollar-for-dollar and remains committed to matching further escalations. Both countries proposed another round of measures that would hit $16 billion worth of goods and President Donald Trump threatened to up the ante to tariffs on all ~$500 billion of Chinese products. With company leaders uncertain of the trade war outcome, many are expected to delay investment and hiring decisions if they haven't already.
Job market remained strong in the U.S. The jobs report reinforced economic strength as the nonfarm payrolls added figure for June came in at 213k, just above the average of the previous six months (208k). But the unemployment rate ticked up to 4.0% (from 3.8%), thanks to an increased labor force participation rate. Wage growth matched May's figure at 2.7% on a year-over-year (y/y) basis, coming in just below expectations. Preceding the jobs report, the Federal Reserve released June meeting minutes that reiterated the plan for a slow and gradual pace to increasing interest rates. The minutes also cited strength in consumer spending and economic growth.
Germany averted coalition breakup over migration policy. Germany Chancellor Angela Merkel reached an agreement on migration policy with her coalition partners in Germany, preventing the prospect of new elections in Germany. The situation in Europe remains somewhat tense overall as countries continue to voice concerns on migration at a time when the region faces the possibility of additional U.S. trade measures that could hit European automakers particularly hard. Meanwhile, Prime Minister Theresa May's "soft Brexit" strategy overcame concerns from part of her Conservative Party. Some Conservatives felt that Brexit would provide the UK with more favorable trade terms with the U.S. – and staying close to Brussels' rules would hinder this benefit. But, despite this concern, May won her cabinet's support to move forward with her plan. Reviewing monetary policy, Bank of England leader Mark Carney expressed confidence in the UK's ability to improve growth following a soft first quarter.
This Week Preview
Banks kick off second quarter earnings season. Starting this Friday, large banks – including Citigroup (C), JPMorgan Chase (JPM) and Wells Fargo (WFC) – begin reporting earnings. We believe investors will follow earnings closely to see if companies are still benefiting from the tax cuts enacted at the beginning of the year or those benefits are being competed away (via lower prices). Company commentary on impacts from U.S.-China trade tensions will also likely be a key part of earnings calls. Headline figures are expected to remain very high overall, as consensus estimates call for 20.0% y/y earnings growth and 8.8% y/y revenue growth.8
Inflation expected to move slightly higher in the U.S. Headline and core Consumer Price Index (CPI) data will be released on Thursday with consensus estimates showing a slight uptick in both figures to 2.9% y/y and 2.3% y/y, respectively. Surveys expect headline CPI in China to move marginally higher as well to 1.9% y/y, while Germany inflation is expected to remain stable at 2.1% y/y.
U.S.-China trade saga continues. President Trump is expected to announce further tariffs on China along with the product categories the U.S. will target next. China will likely respond in kind. Markets will be looking to see if the growing trade war is impacting China's economy as notable economic data points will be released throughout the week across imports/exports, money supply and the trade balance.
Click here to view the full report.
Unless otherwise noted, all opinions expressed in this post are those of the author and do not necessarily represent the views of Northern Trust. Information contained herein is current as of the date appearing only and is subject to change without notice.
---
Past performance is no guarantee of future results. It is not possible to invest directly in any index and index performance returns do not reflect any management fees, transaction costs or expenses.
End Notes
1. Bloomberg, MSCI U.S. Equities IMI Index returns 02Jul2018 – 06Jul2018.
2. Bloomberg, MSCI ex-U.S. Equities IMI Index returns 02Jul2018 – 06Jul2018.
3. Bloomberg, MSCI Emerging Market Equities Index returns 02Jul2018 – 06Jul2018.
4. Bloomberg, MSCI World Index returns 02Jan2018 – 06Jul2018.
5. Bloomberg, MSCI U.S. Equities IMI Index returns 02Jan2018 – 06Jul2018.
6. Bloomberg, MSCI Emerging Market Equities Index 02Jan2018 – 06Jul2018.
7. Bloomberg, In this analysis we are making a comparison between the difference of the 2-Year nominal Treasury rates versus the 10-Year nominal Treasury rates using data available as of 06Jul2018. Yield curve is constructed by plotting a sessions final yields for various maturities including 1-month, 3-month, 6-month, 1-year, 2-year, 3-year, 5-year, 7-year, 10-year, 20-year and 30-year maturities. One basis point is equal to 1/100th of 1%, or 0.01%, or 0.0001, and is used to denote the percentage change in a financial instrument.
8. Thomson Reuters. S&P 500 Earnings Dashboard. Retrieved 06Jul2018 from http://lipperalpha.financial.thomsonreuters.com/2018/07/sp-500-17q1-earnings-dashboard/