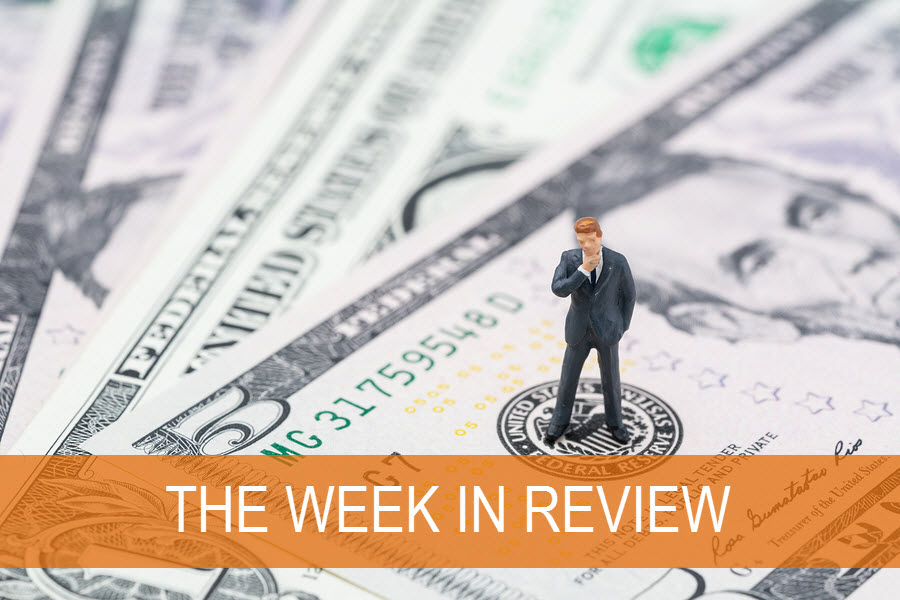 China tariff retaliation, declining PMI and will the consensus be right about inflation? Find out more in this edition of "The Week in Review."
Last Week Review
Global equities slide lower on trade threats. Following China's tariff retaliation, President Donald Trump threatened to increase the tariffs to 10% on $200 billion worth of products if China refused to reduce the U.S. trade deficit and change its policies on intellectual property. A 60-day public comment period will occur before the announced tariffs go into effect. All major regions responded negatively with U.S. equities and emerging market equities finishing down for the week at -0.7% and -2.4%, respectively.1 Non-U.S. developed markets declined by 0.9% by market close on Friday.2 Global equities are now up 1.1% year-to-date, held afloat by U.S. equities.3 Reviewing interest rates, the U.S. Treasury yield curve flattened to a narrow 35 basis points by the week's end.4
Flash PMI data moves down across the U.S. and Europe. Flash Manufacturing Purchasing Managers' Index (PMI) data was released last week across Japan, Europe, and the U.S. The U.S. flash Manufacturing PMI declined to 54.6 from the prior reading of 56.4, with Europe seeing a more modest downward move from 55.5 to 55.0. Despite the softening in the data noted above, all of the major regions remain well into expansionary territory (above 50).
Macron and Merkel agree to common Eurozone budget. Germany Chancellor Angela Merkel agreed to France President Emmanuel Macron's push for a common Eurozone budget, though Macron made concessions on budget size and governance. The two leaders also hope to adjust the European Stability Mechanism to be able to assist countries facing recessions by providing emergency loans. A number of EU countries expressed concerns with the budget proposal late last week. Also, European Central Bank (ECB) President Mario Draghi spoke on monetary policy last week, reiterating that the central bank will not move interest rates until after the summer of 2019. In another development in Europe, an agreement was reached to extend maturities of Greece's debt, with the hope that Greece will be able to improve its fiscal situation and no longer need periodic emergency bailouts.
May fends off challenge on Brexit bill amendment. Despite some tension over the past few weeks, UK Prime Minister Theresa May won a meaningful victory as UK parliament voted against a Brexit bill amendment that would give it more power to stop Britain from leaving the EU in the event of a no-deal Brexit. Elsewhere in the UK, the Bank of England (BOE) maintained its policy rate at 0.5% but expectations of a hike in August increased to roughly 70% from 53% at the start of the week, as the BOE chief economist shifted to the faction of policymakers calling for a rate hike.
This Week Preview
No major changes expected in this week's inflation readings. Major regions including Europe and the U.S. will post inflation figures near the end of this week, with the data expected to remain near prior levels for the most part. Core Personal Consumption Expenditures (PCE), the Federal Reserve's preferred inflation metric, is expected to tick up to 1.9% year-over-year (y/y). Consensus expectations call for core inflation in Europe to remain very close to the prior month's reading at 1.0% y/y. In addition, headline Europe inflation is expected to inch up to 2.0% y/y. Central bankers will follow the inflation releases closely as they will consider it when making monetary policy decisions down the road.
Investors await additional trade developments. Following last week's trade threats by President Trump, investors will wait to see if China responds. Given last week's choppy global equities decline and the decrease in flash manufacturing PMIs, consumer confidence measures in the form of the University of Michigan's Sentiment indicator and the Europe Consumer Confidence Index will be monitored by investors to see if trade tensions are beginning to weigh on the outlook for consumption.
Migration expected to be a key topic at EU summit. European Union (EU) leaders will meet this week, likely focusing on migration, economic reform, and trade relations including the common budget that Macron and Merkel began to hash out last week.
Click here to view the full report.
Unless otherwise noted, all opinions expressed in this post are those of the author and do not necessarily represent the views of Northern Trust. Information contained herein is current as of the date appearing only and is subject to change without notice.
---
Past performance is no guarantee of future results. It is not possible to invest directly in any index and index performance returns do not reflect any management fees, transaction costs or expenses.
End Notes
1. Bloomberg, MSCI U.S. Equities IMI Index and MSCI Emerging Market Equities Index returns 18Jun2018 – 22Jun2018.
2. Bloomberg, MSCI ex-U.S. Equities IMI Index returns 18Jun2018 – 22Jun2018.
3. Bloomberg, MSCI World Index returns 02Jan2018 – 22Jun2018.
4. Bloomberg, Yield curve as of 22Jun2018 and is constructed by plotting a sessions final yields for various maturities including 1-month, 3-month, 6-month, 1-year, 2-year, 3-year, 5-year, 7-year, 10-year, 20-year and 30-year maturities. One basis point is equal to 1/100th of 1%, or 0.01%, or 0.0001, and is used to denote the percentage change in a financial instrument. In this example, we are comparing the yield as of a certain date between the 1-month and the 30-year maturing instruments.