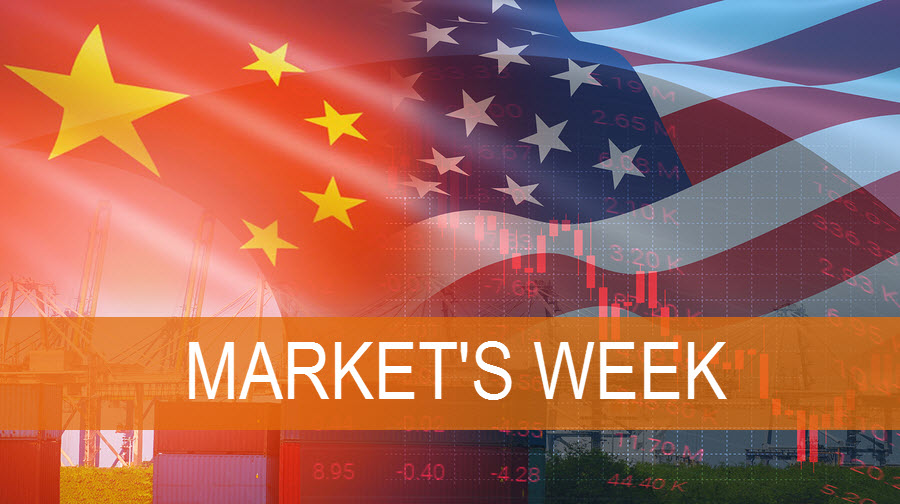 Antitrust agencies to investigate the largest U.S. tech companies. Find out more in this edition of "The Week in Review."
Last Week Review
Global equities advance on dovish central bank comments. Global equities rebounded last week, helped by global central banks announcing their willingness to cut rates if needed to support economic growth1. In addition, the U.S. agreed to delay implementing tariffs on Mexico, though this occurred after markets closed for the week2. U.S. equities (4.4%) led all regions higher and were followed by non-U.S. developed markets (3.1%) and emerging markets (1.0%)3. Global equities are up 13.4% for the year driven mainly by developed markets4. In fixed income markets, the 10-year U.S. Treasury yield dropped again last week to 2.08%, following a weak U.S. jobs report5.
Antitrust agencies to investigate the largest U.S. tech companies. The Department of Justice and Federal Trade Commission will look to potentially investigate Amazon, Facebook, Google and Apple for antitrust violations. Share prices of all four technology companies fell last Monday as a result. Regulatory investigations of this nature typically take years to complete and have historically impacted stocks over the short term. Regulations on data privacy and digital content may emerge at some point but investors will likely focus more on company fundamentals while still considering the regulatory headwinds6.
Federal Reserve open to rate cut if needed. Fed Chairman Jerome Powell stated during a speech last Tuesday that the Fed would cut rates to support the U.S. expansion if trade tensions began to affect the economy. Fed Vice Chairman Richard Clarida said that he'd be comfortable with an inflation uptick related to trade if more accommodative policy supported economic growth. Futures markets are widely expecting two rate cuts in 2019 and a decent chance of three cuts7. Also, European Central Bank (ECB) officials held interest rates steady last Thursday, but announced their willingness to cut rates or restart quantitative easing. ECB President Mario Draghi may look to implement more stimulus before his term concludes in October8.
U.S. jobs figure disappoints relative to expectations. Friday's jobs report showed 75k jobs added for May which fell short of consensus expectations. The unemployment rate remained at 3.6% and wage growth ticked down to 3.1% year-over-year. The disappointing report further bolstered market expectations that the Fed may cut rates in the near term. Looking at the manufacturing environment, the UK Purchasing Manager's Index (PMI) reading slipped considerably as it fell into contractionary territory (below 50). The ISM Manufacturing Index for the U.S. also dropped below economist surveys to 52.1 but remains in expansionary territory.
This Week Preview
Mixed economic data expected out of China. A flurry of economic data from China this week will paint a picture of how the economy is holding up during a time of heightened tensions with the U.S. Trade data measured by imports and exports are expected to decrease from last May, while industrial production, retails sales and fixed asset investment are expected to grow compared to last year. Investors will pay close attention to how trade and technology-related headwinds are affecting the economy. The U.S. is broadly viewed to have a stronger economic base to withstand a long dispute while China is viewed to have an easier time using fiscal and monetary measures to support the economy9.
U.S. inflation figures expected to remain near prior levels. Headline Consumer Price Index (CPI) readings are expected to decrease slightly while core CPI is expected to remain stable. The Fed announced that it will cut rates to support growth if necessary during the trade spat but continued low inflation may accelerate that decision.
UK PM contest kicks off this week. The race for the next UK Prime Minister officially begins this week after PM Theresa May stepped down last Friday. Conservative Party parliament members will eventually hold a series of votes until two candidates remain, then the broader party membership will vote in July to determine the next PM. A key area of focus for investors will be the new PM's stance towards a no-deal Brexit10.
Click here to view the full report.
Unless otherwise noted, all opinions expressed in this post are those of the author and do not necessarily represent the views of Northern Trust. Information contained herein is current as of the date appearing only and is subject to change without notice.
End Notes
1. Bloomberg, MSCI ACWI (All Country World Index) returns 03Jun2019 –07Jun2019.
2. Tavelev, Margaret. Jacobs, Jennifer and Martin, Eric. Bloomberg. Pence Warns Mexico Tariffs Are Coming With More Talks Set Friday. Retrieved on 07Jun2019 from https://www.bloomberg.com/news/articles/2019-06-06/u-s-weighs-delaying-mexico-tariffs-as-time-for-deal-runs-short
3. MSCI U.S. Equities IMI Index returns 03Jun2019 –07Jun2019. Bloomberg, MSCI World ex-U.S. IMI Index returns 03Jun2019 –07Jun2019. MSCI Emerging Market Equities Index returns 03Jun2019 –07Jun2019.
4. Bloomberg, MSCI ACWI (All Country World Index) returns 02Jan2019 –07Jun2019.
5. Bloomberg, 10-Year Treasury Yield Rate 03Jun2019 –07Jun2019.
6. Bartz, Diane. Wolfe, Jan. Reuters. U.S. Moving Toward Major Antitrust Probe of Tech Giants. Retrieved on 07Jun2019 from https://www.reuters.com/article/us-usa-technology-antitrust/us-moving-toward-major-antitrust-probe-of-tech-giants-idUSKCN1T42JH
7. Chairman Powell's Press Conference [Interview transcript]. Retrieved on 07Jun2019 from https://www.federalreserve.gov/monetarypolicy/files/monetary20190501a1.pdf
8. Meredith, Sam. CNBC. Euro rises as ECB pushes back rate hike deadline; raises inflation forecast. Retrieved on 07Jun2019 from https://www.cnbc.com/2019/06/06/ecb-european-central-bank-holds-interest-rates-steady.html
9. Cheng, Evelyn. Trade tensions have had a 'significant' impact on China, IMF says. CNBC. Retrieved on 07Jun2019 https://www.cnbc.com/2019/06/05/trade-tensions-have-had-a-significant-impact-on-china-imf-says.html
10. Dickson, Annabelle. Politco. The path to power for the UK's next prime minister. Retrieved on 07Jun2019 from https://www.politico.eu/article/the-path-to-power-for-the-uk-next-prime-minister-tory-party-theresa-may/
Past performance is no guarantee of future results. It is not possible to invest directly in any index and index performance returns do not reflect any management fees, transaction costs or expenses.