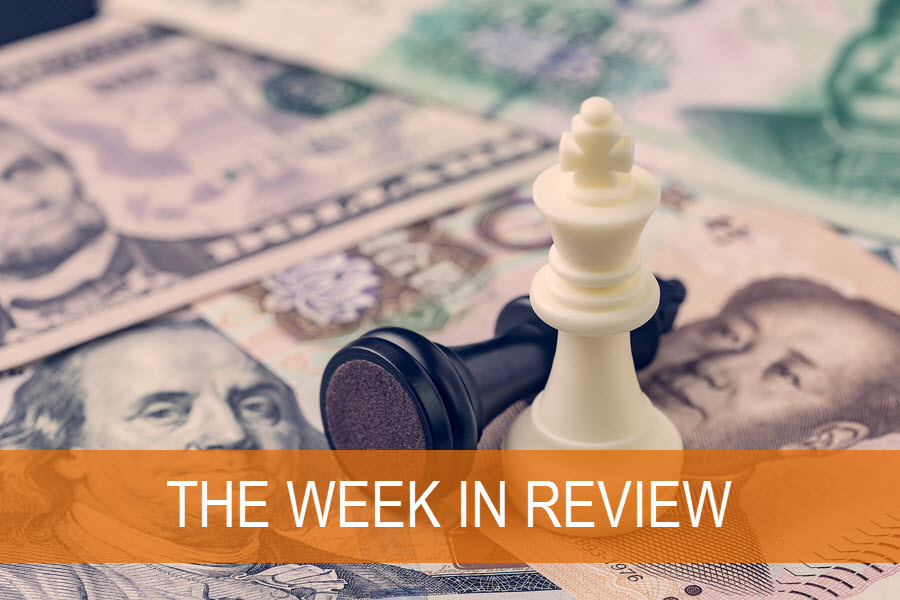 U.S. equities still lead for the year, the impact of trade tariffs and is there confidence in Italy's new government? Find out more in this edition of "The Week in Review."
Last Week Review
Global equities flat for the week despite trade and political concerns. Global equities were mostly unchanged last week with a -0.1% return. 1 U.S. equities posted a modest positive return of 0.7%, 2 while non-U.S. developed market equities dropped 0.9% 3 and emerging market equities dropped 0.4%. 4 Global equities are now up 1.2% year-to-date, 5 led by U.S. equities with a 3.7% return. 6 The 10-year U.S. Treasury yield dipped as low as 2.78% 7 mid-week, though ended up mostly unchanged for the week at 2.90%, 8 only 43 basis points above the 2-year U.S. Treasury yield. 9
U.S. tariffs spur concerns of retaliation and escalating trade tensions. The U.S. tariff exemption period for the European Union (EU), Mexico and Canada ended last Thursday effectively placing a tariff on the imports of steel and aluminum at 25% and 10%, respectively. In response, the leaders of the U.S. trading partners announced the decision to target U.S. goods as a retaliatory measure. Commerce Secretary Wilbur Ross says the U.S. remains open to negotiations with the EU and NAFTA trading partners and their reactions will be considered in further U.S. decision making. Investors will continue to monitor the situation to look for signs that trade tensions are starting to weigh on the global growth outlook.
Italy forms new coalition government. European equity markets were down 1.5% 10 last Tuesday on concerns that Italy's struggle to form a government could potentially lead to new elections that would be seen as a referendum on EU membership. The far-right League's leader Matteo Salvini and Five Star Movement leader Luigi Di Maio restarted negotiations and were able to form a new government in Rome on Thursday. Meanwhile in Spain, Prime Minister Mariano Rajoy's six years in office ended last Friday, as the opposition Socialist party led a no-confidence vote that removed Rajoy from office. Overall, markets were much more concerned about the situation in Italy throughout the week compared to the developments in Spain.
U.S. unemployment rate ticks lower in solid jobs report. The May jobs report saw a non-farm payrolls added figure of 223k, which was above consensus expectations. The employment rate ticked down to 3.8%, which was below both consensus and the prior level. Wage growth ticked up to 2.7% year-over-year (y/y). Also last week, Personal Consumption Expenditures (PCE) Core, the Federal Reserve's preferred inflation metric, was consistent with consensus and the prior month's reading at 1.8% y/y. Markets continue to fully expect a rate hike in the Fed's June meeting. In Europe, inflation moved higher on a headline and core basis to 1.9% y/y and 1.1% y/y, respectively, though this was largely overshadowed by the situation in Italy last week.
This Week Preview
Trade talks between the U.S. and China set to continue. Following the tariffs imposed on U.S. allies last week, Commerce Secretary Ross will travel to China for more discussions on trade. President Donald Trump is expected to move ahead with tariffs of $50 billion on China imports in the near future, marking a reversal of previous Trump administration comments. China economic data will also be released this week including services Purchasing Managers' Index (PMI), headline Consumer Price Index (CPI) and import/export data.
Italy will hold vote of confidence to secure new government. In order to secure the coalition government agreement reached last week, Italy's parliament will hold a vote of confidence this week. This will finalize the new government and mark the end of a three-month period of uncertainty following Italy's March elections. Italy bond markets began to calm down at the end of last week, with the 2-year yield at 0.95%, 11 despite moving as high as 2.6% last week. 12
Final services PMIs expected to remain constructive. Final services PMIs are expected to remain in expansionary territory (above 50) for the major regions reporting this week. Germany, Europe and the U.S. are expected to post levels in-line with the prior reading at 52.1, 53.9 and 55.7, respectively.
Click here to view the full report.
Unless otherwise noted, all opinions expressed in this post are those of the author and do not necessarily represent the views of Northern Trust. Information contained herein is current as of the date appearing only and is subject to change without notice.
---
Past performance is no guarantee of future results. It is not possible to invest directly in any index and index performance returns do not reflect any management fees, transaction costs or expenses.
End Notes
Bloomberg, MSCI World Index returns 21May2018 – 25May2018.
Bloomberg, MSCI ex-U.S. Equities IMI Index returns 21May2018 – 25May2018.
Bloomberg, MSCI U.S. Equities IMI Index returns 21May2018 – 25May2018.
Bloomberg, MSCI Emerging Market Equities Index returns 21May2018 – 25May2018.
Bloomberg, MSCI U.S. Equities IMI Index returns 02Jan2018 – 25May2018.
Bloomberg, 10-Year Treasury Rate 25May2018.
Bloomberg, In this analysis we are making a comparison between the difference of the 2-Year nominal Treasury rates versus the 10-Year nominal Treasury rates using data available as of 25May2018. Basis Point (BPS) refers to a common unit of measure for interest rates and other percentages in finance. One basis point is equal to 1/100th of 1%, or 0.01%, or 0.0001, and is used to denote the percentage change in a financial instrument.
Bloomberg, MSCI World Index, MSCI ex-U.S. Equities IMI Index, MSCI U.S. Equities IMI Index & MSCI Emerging Market Equities Index returns as of 21May2018.
Bloomberg, Fed Funds Futures Index 25May2018. Fed funds futures are used by banks and fixed-income portfolio managers to hedge against fluctuations in the short-term interest rate market. They are also a common tool traders use to take speculative positions on future Federal Reserve monetary policy.