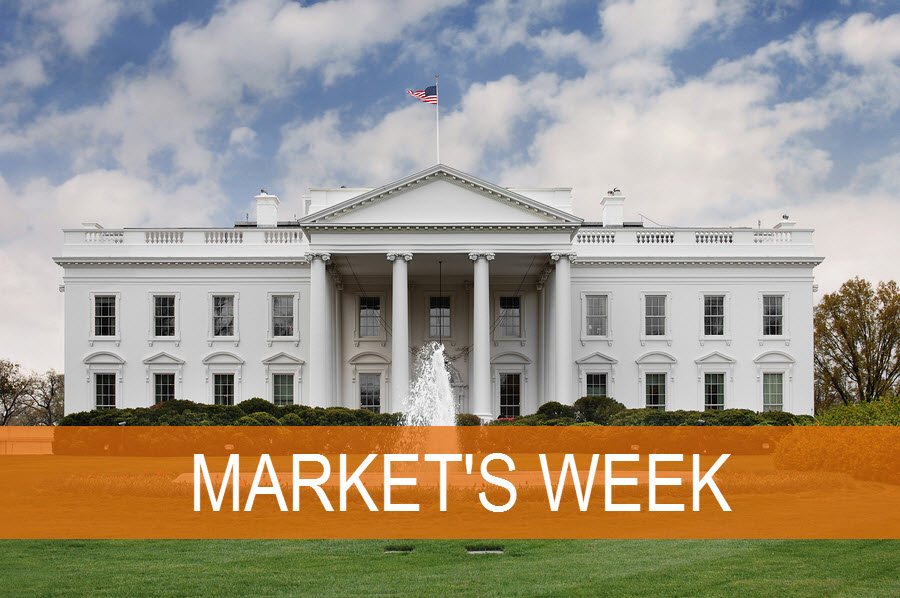 Trump's trade-related tweet rattles markets. Find out more in this edition of "The Week in Review."
Last Week Review
Global equities shift lower on trade. Renewed trade concerns helped drive global equities 2.5% lower and temporarily invert the U.S. yield curve at the three-month and 10-year tenors1. Emerging market equities declined the most of the major regions falling 4.4%, driving the year-to-date return to 7.2%, the lowest of the major regions2. Global equities are up 13.3% for the year led by the 16.3% return from U.S. equities3.
Trump's trade-related tweet rattles markets. President Donald Trump tweeted early last week that the U.S. was increasing tariffs from 10% to 25% on $200 billion worth of Chinese goods and potentially implementing tariffs on all goods imported from China. Trump's threat was prompted by China's backtracking on trade promises, including indoctrinating trade promises into Chinese law. The U.S. followed through with Trump's threat, raising tariffs on Friday and began the process of implementing tariffs on the remaining imports from China. China vowed to retaliate with details likely to emerge over the upcoming days4. Economic data in China has been mixed with 4.0% year-over-year (y/y) growth in imports and 2.7% y/y decline in exports. China's credit growth also fell below economists' expectations for April. Investors will follow the data prints closely to see if China's stimulus can offset the negative impact associated with new tariffs.
Markets show 59% probability of rate cute by year end. Markets continue to expect a rate cut by year end despite Federal Reserve Chairman Jerome Powell's focus on the possibility that recent soft inflation readings were merely transitory at his recent post-FOMC meeting press conference, further adding that the Fed didn't see a reason to adjust interest rates higher or lower any time soon. Some Fed officials like Chicago Fed President Charles Evans, see persistently sluggish inflation and lower than expected prints as a reason to cut rates5. Headline consumer price index measures posted on Friday with the headline number falling short of expectations at 2.0% y/y. Another missed inflation print combined with the increased volatility from the trade escalation have pushed markets to modestly expect a cut by year end with 59% probability.
Ride-sharing companies now both publically listed. Investors will now have better insight into the competition between Lyft and Uber as both companies – now publically listed – will be reporting quarterly earnings going forward. Investors will be focused on how the two companies balance turning a profit with reinvesting into the business to grow market share and overall revenues6. Looking at the broader U.S. market, 450 S&P 500 companies (90%) have reported earnings growth of 1.7% y/y and sales growth of 4.8% y/y. Earnings growth has consistently surpassed expectations while revenue growth has met analysts' forecasts7.
This Week Preview
Earnings season moves closer to the finish line. The majority of the companies left to report first quarter 2019 earnings are in consumer discretionary sector. Through last Friday, the sector has surprised analysts' expectations the most by posting the second best earnings growth numbers. Communication Services leads all sectors with 13.6% y/y earnings growth. Notable companies releasing earnings include Walmart (WMT) on Thursday and Deere & Co. (DE) to cap off the week on Friday8.
Chinese data release to provide gauge on economy. China will release data on fixed asset investment, industrial production and retail sales that are expected to show healthy increases from the prior year. Strong readings may provide investors insight on China's ability to handle pressure from the U.S. on the tariff front. As China responds to U.S. tariffs in the near future, certain U.S. industries may need to adjust strategy9.
President Trump likely to delay auto tariff decision. The Commerce Department set a May 18 deadline for Trump to decide on whether he would like to move forward with 25% tariffs on automobiles from Japan and the European Union. The president delayed the decision last year and said he will not implement the tariff if talks were progressing smoothly. Automakers expect another deadline delay of 180 days. If he announces a date to charge taxes on imports of automobiles, markets will likely respond negatively and add to the U.S./China trade negotiation-induced market volatility10.
Click here to view the full report.
Unless otherwise noted, all opinions expressed in this post are those of the author and do not necessarily represent the views of Northern Trust. Information contained herein is current as of the date appearing only and is subject to change without notice.
End Notes
1) Bloomberg, MSCI ACWI (All Country World Index) returns 06May2019-10May2019. Bloomberg, 10-Year Treasury Rate 06May2019-10May2019, Bloomberg, 3-Month Treasury Rate 06May2019-10May2019.
2) Bloomberg, MSCI Emerging Market Equities Index returns 06May2019-10May2019. Bloomberg, MSCI Emerging Market Equities Index returns 02Jan2019 – 10May2019.
3) Bloomberg, MSCI ACWI (All Country World Index) returns 02Jan2019 – 10May2019. MSCI U.S. Equities IMI Index returns 02Jan2019 – 10May2019.
4) David, Bob & Ballhaus, Rebecca. The Wall Street Journal. Trump Issues Tariff Threat and China Considers Pulling Out of Talks. Retrieved on 13May2019 from https://wsj.com/articles/trump-says-he-will-increase-tariffs-on-200-billion-of-chinese-goods-from-10-to-25-on-friday-11557075332
5) Federal Open Market Committee. (May 1, 2019). Chairman Powell's Press Conference [Interview transcript]. Retrieved on 10May2019 from https://federalreserve.gov/monetarypolicy/files/monetary20190501a1.pdf
6) Sheetz, Michael. CNBC. Here's what Wall Street is saying about Lyft's first report: 'A good first step' to profitability. Retrieved on 10May2019 from https://cnbc.com/2019/05/08/heres-what-wall-street-is-saying-about-lyfts-first-report-a-good-first-step-to-profitability.html
7) Thomson Reuters. S&P 500 Earnings Dashboard. Retrieved 10May2019 from http://lipperalpha.financial.thomsonreuters.com
8) Thomson Reuters. S&P 500 Earnings Dashboard. Retrieved 10May2019 from http://lipperalpha.financial.thomsonreuters.com
9) Sherman, Jake. Palmer, Anna. Lippman, Daniel. POLITCO Playbook. POLITICO Playbook: Kudlow on tariffs: Both sides will suffer. Retrieved on 12May2019 from https://politico.com/newsletters/playbook/2019/05/12/kudlow-on-tariffs-both-sides-will-suffer-435175.
10) Yahoo Finance. TOPLive Starts: Follow Developments in U.S.-China Tariffs Spat. Retrieved on 10May2019 from https://finance.yahoo.com/news/toplive-starts-developments-u-china-012553983.html
Past performance is no guarantee of future results. It is not possible to invest directly in any index and index performance returns do not reflect any management fees, transaction costs or expenses.