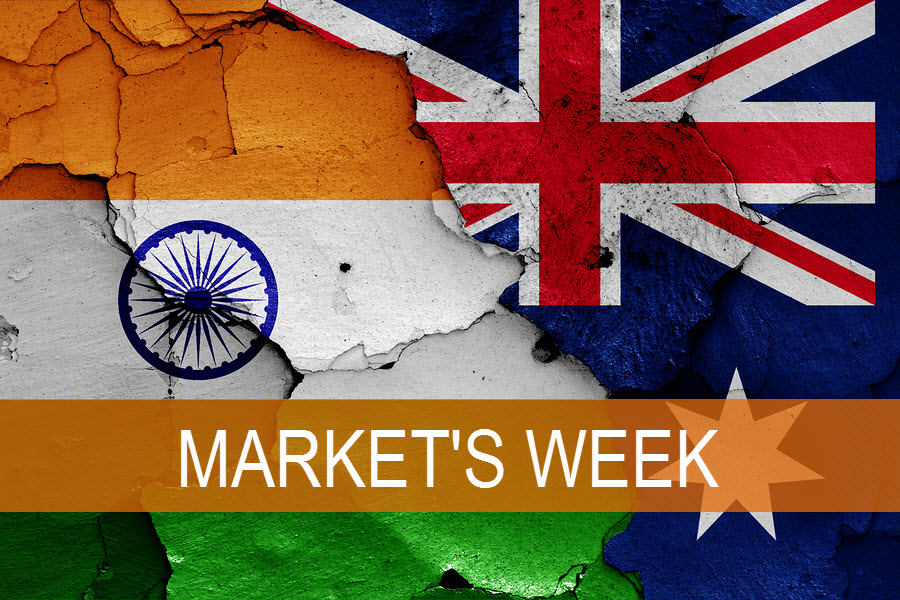 Australian equities jumped over 2% in local terms last Monday following the surprise election victory of new Prime Minister Scott Morrison's Conservative Party. Find out more in this edition of "The Week in Review."
Last Week Review
Trade and growth concerns weigh on global equities. Trade tensions and worries on the global growth outlook led to a bumpy week for global equities (-0.9%) with the U.S. (-1.2%) declining the most across the major regions1. The 10-year Treasury yield dropped 7 basis points to 2.32%, its lowest level since late 2017, following weak manufacturing data last Thursday2. With regard to U.S.-China relations, the U.S. granted Chinese telecom company Huawei a 90-day delay to President Donald Trump's recent executive orders that largely prevented U.S. companies from doing business with Huawei. Trump's actions were intended to improve leverage in trade negations, but China stated talks will not resume until the technology bans are lifted3.
PMI data dips across all major regions. May's flash manufacturing Purchasing Managers' Index (PMI) readings fell short of economist surveys and April's figures. Europe and Germany fell further into contractionary territory (below 50) moving to 47.7 and 44.3, respectively. Japan dropped into contractionary territory in May to 49.6, while the U.S. fell by two points to 50.6. The decline in the U.S. figure was notable since the U.S. economy was widely considered to be holding up better than the rest of the world. Services PMI figures remain above manufacturing levels, but also experienced decreases from April's readings across the major regions.
Federal Reserve meeting minutes align officials' view on inflation. May's Fed minutes showed that Federal Reserve Chairman Jerome Powell's colleagues also believe temporary factors are keeping inflation below the Fed's 2% target. However, some Fed leaders and staff economists acknowledged the risk of inflation anchoring below target – a somewhat dovish revelation. Meanwhile, market expectations for inflation remain low, with the 10-year inflation breakeven currently at 1.77%4.
Australia and India elections boost respective markets. Australian equities jumped over 2% in local terms last Monday following the surprise election victory of new Prime Minister Scott Morrison's Conservative Party. After trailing in the polls, Morrison credited "quiet Australians" for their votes as they were not prepared for higher taxes, redistribution of wealth or increased government spending that his opponent advocated5. India's equity markets moved 3.7% higher early last week as polls indicated that current Prime Minister, Narendra Modi, would retain his position in a landslide victory. Modi officially won last Thursday with his party winning about 303 of 543 seats in lower parliament6. Finally, UK Prime Minister Theresa May failed to generate support for a revised withdrawal agreement that included a second referendum. Losing support of the Conservative party has led May to announce her resignation date of June 77.
This Week Preview
Low core PCE could help lead to Fed accommodation. The Fed's preferred inflation measure, core Personal Consumption Expenditures (PCE), will be released this Friday. Economists expect a reading of 1.6% year-over-year (y/y) but actual figures have fallen about 0.1% short of expectations the last few months. Investors have been at odds with Fed Chairman Powell's view that temporary factors are keeping inflation low. Core PCE has only exceeded the Fed's 2% target for six months in the last 10 years. Continued low inflation and heightened tensions between the U.S. and China, lead markets to price a 79% probability of a Fed rate cut by year-end. A low core PCE of 1.5% y/y or lower may drive some Fed officials to start reconsidering their patient stance in favor of a rate cut. Investors will also follow China's PMI reports. Surveys expect manufacturing data to fall and non-manufacturing data to stay in line with April.
European Parliament election results will be released on Monday. 28 member countries (including the UK) of the European Union voted on parliament seats between May 23 and May 26. The European People's Party (center-right) and the Socialists & Democrats (center-left) are expected to remain the biggest groups in parliament but will likely lose their combined majority due to populist-oriented parties gaining some seats. As a Brexit withdrawal agreement has not been agreed to, the UK will elect 73 of the 751 seats, though the UK would vacate these seats if Brexit is fully implemented8.
Click here to view the full report.
Unless otherwise noted, all opinions expressed in this post are those of the author and do not necessarily represent the views of Northern Trust. Information contained herein is current as of the date appearing only and is subject to change without notice.
End Notes
1. Bloomberg, MSCI ACWI (All Country World Index) returns 20May2019 –24May2019. MSCI U.S. Equities IMI Index returns 20May2019 –24May2019.
2. Bloomberg, 10-Year Treasury Rate 20May2019 –24May2019.
3. Reuters 'Arrogant demands' by US 'invade' China's economic sovereignty, state news agency says. Retrieved on 26May2019 from https://www.scmp.com/news/china/diplomacy/article/3011832/arrogant-demands-us-invade-chinas-economic-sovereignty-state
4. Chairman Powell's Press Conference [Interview transcript]. Retrieved on 27May2019 from https://federalreserve.gov/monetarypolicy/files/monetary20190501a1.pdf
5. Grant, Stan. Foreign Policy. Scott Morrison Won Australia's Election Against All Odds. It shouldn't have Comes as a Surprise. Retrieved on 21May2019 from https://foreignpolicy.com/2019/05/21/scott-morrison-won-australias-election-against-all-odds-it-shouldnt-have-come-as-a-surprise-alp-shorten-folau-religion/
6. Sharma, Subramaniam. Bloomberg. Full Coverage of India's Election Results. Retrieved on 26May2019 from https://bloomberg.com/news/live-blog/2019-03-12/india-general-election-results
7. Dawson, Simon. New York Times. Mrs. May is leaving Downing Street, but not today. Retrieved on 24May2019 from https://nytimes.com/2019/05/24/world/europe/theresa-may-resignation.html
8. Final voting under way in European elections. Retrieved on 26May2019 from https://www.bbc.com/news/world-europe-48412603
Past performance is no guarantee of future results. It is not possible to invest directly in any index and index performance returns do not reflect any management fees, transaction costs or expenses.