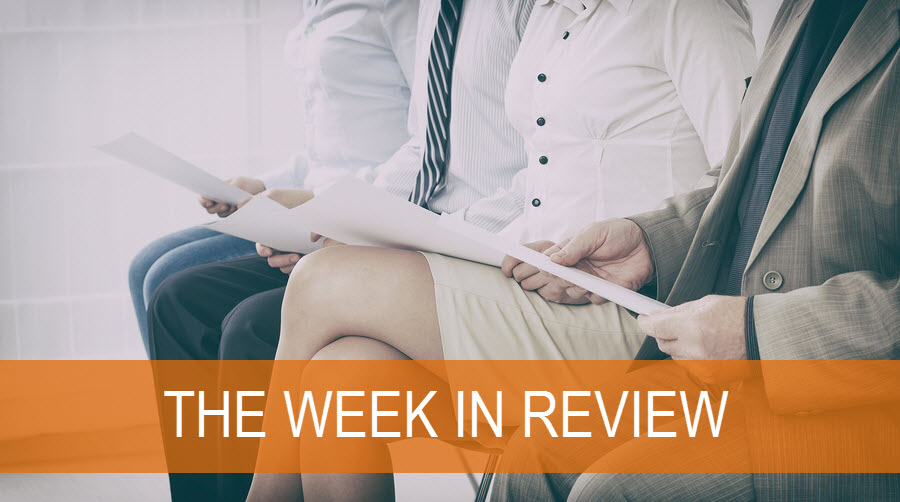 U.S. equities lead for the year, the impact of Flash PMI and what's ahead for the May jobs report? Find out more in this edition of "The Week in Review."
Last Week Review
Global equities decline in a difficult week for non-U.S. developed markets. Global equities declined 0.4% last week, 1 driven by a 1.4% drop in non-U.S. developed markets. 2 U.S. equities posted a modest positive return of 0.3% 3 while emerging market equities finished flat. 4 U.S. equities continue to lead all major regions in 2018 so far with a 3.0% return. 5 The 10-year U.S. Treasury declined by 12 basis points to 2.93% late last week, 6 leaving it about 45 basis points above the 2-year U.S. Treasury yield. 7
China and U.S. ease trade tensions for now. Markets started off on a positive note on Monday last week 8 following news of the U.S. and China agreeing not to implement tariffs that were due to be put into effect last week. The countries appeared closer to agreement on a deal to save China's ZTE Corporation, which the U.S. had previously cut off from U.S. suppliers. After what had been perceived as hostile statements against the U.S., President Donald Trump cancelled the U.S.-North Korea summit that was set to take place in a few weeks. The cancellation could result in North Korea continuing its nuclear program while the U.S. maintains sanctions against North Korea, though the situation remains fluid. Also in trade news last week, President Trump threatened to impose tariffs on car imports, which was viewed by some as a way to strengthen the U.S.'s hand at the NAFTA negotiation table.
Flash manufacturing PMIs move lower outside the U.S. Flash manufacturing Purchasing Managers' Index (PMI) readings were released last week, starting on Tuesday, where Japan's reading dropped to 52.5 from the prior level of 53.8. The rest of the major regions reported on Wednesday with Europe and Germany moving lower as well to 55.5 and 56.8, respectively. The small uptick in the U.S. made it the only region to surpass expectations and the prior month's reading, reporting a figure of 56.6. Despite the somewhat disappointing flash PMIs, each of the regions discussed above remains comfortably in expansionary territory (above 50).
Congress rolls back Dodd-Frank regulations. The U.S. House of Representatives passed legislation to ease regulations stemming from the Dodd-Frank bill. Banks with assets under $250 billion will no longer be subject to the most rigorous federal oversight. We believe regional and community banks may benefit from the changed regulations. The new EU regulation, General Data Protection Regulation (GDPR), went into effect last Friday requiring companies to receive consumer consent on how their personal information will be used. Many large U.S. companies are making changes to avoid fines while some smaller technology companies are pulling out of the EU altogether.
THIS WEEK PREVIEW
U.S. inflation data expected to remain near prior levels. We believe wage growth is expected to stay at 2.6% year-over-year (y/y) when May jobs report data is released this Friday. We believe consensus expectations call for a 190k jobs added figure, which would be the highest reading since February's 324k figure. We believe the unemployment rate is expected to remain stable at 3.9%, the lowest rate since September 2000. Also in U.S. economic data this week, Personal Consumption Expenditures (PCE) and PCE Core data will be released on Thursday. PCE Core, which is the Federal Reserve's preferred inflation metric; we believe will move down slightly to 1.8% y/y from the prior level of 1.9% y/y. Fed fund futures continue to have a rate hike fully priced in for the mid-June Fed meeting. 9
Europe inflation expected to move higher. The European Central Bank (ECB) will likely be keeping an eye on this week's Consumer Price Index (CPI) data release. We believe Europe CPI is expected to increase to 1.6% y/y while core CPI is expected to move up to 1.0% y/y. The increase in Europe core CPI could bring the metric back near levels observed in early 2018. Germany CPI will also be released this week and we believe it is expected to increase to 2.0% y/y from the prior month's reading of 1.6% y/y. Sustained increases in the inflation rate toward the ECB's 2% target may help make the ECB more comfortable as it approaches the end of its asset purchase program and looks to normalize monetary policy down the road.
Click here to view the full report.
Unless otherwise noted, all opinions expressed in this post are those of the author and do not necessarily represent the views of Northern Trust. Information contained herein is current as of the date appearing only and is subject to change without notice.
---
End Notes
Bloomberg, MSCI World Index returns 21May2018 – 25May2018.
Bloomberg, MSCI ex-U.S. Equities IMI Index returns 21May2018 – 25May2018.
Bloomberg, MSCI U.S. Equities IMI Index returns 21May2018 – 25May2018.
Bloomberg, MSCI Emerging Market Equities Index returns 21May2018 – 25May2018.
Bloomberg, MSCI U.S. Equities IMI Index returns 02Jan2018 – 25May2018.
Bloomberg, 10-Year Treasury Rate 25May2018.
Bloomberg, In this analysis we are making a comparison between the difference of the 2-Year nominal Treasury rates versus the 10-Year nominal Treasury rates using data available as of 25May2018. Basis Point (BPS) refers to a common unit of measure for interest rates and other percentages in finance. One basis point is equal to 1/100th of 1%, or 0.01%, or 0.0001, and is used to denote the percentage change in a financial instrument.
Bloomberg, MSCI World Index, MSCI ex-U.S. Equities IMI Index, MSCI U.S. Equities IMI Index & MSCI Emerging Market Equities Index returns as of 21May2018.
Bloomberg, Fed Funds Futures Index 25May2018. Fed funds futures are used by banks and fixed-income portfolio managers to hedge against fluctuations in the short-term interest rate market. They are also a common tool traders use to take speculative positions on future Federal Reserve monetary policy.