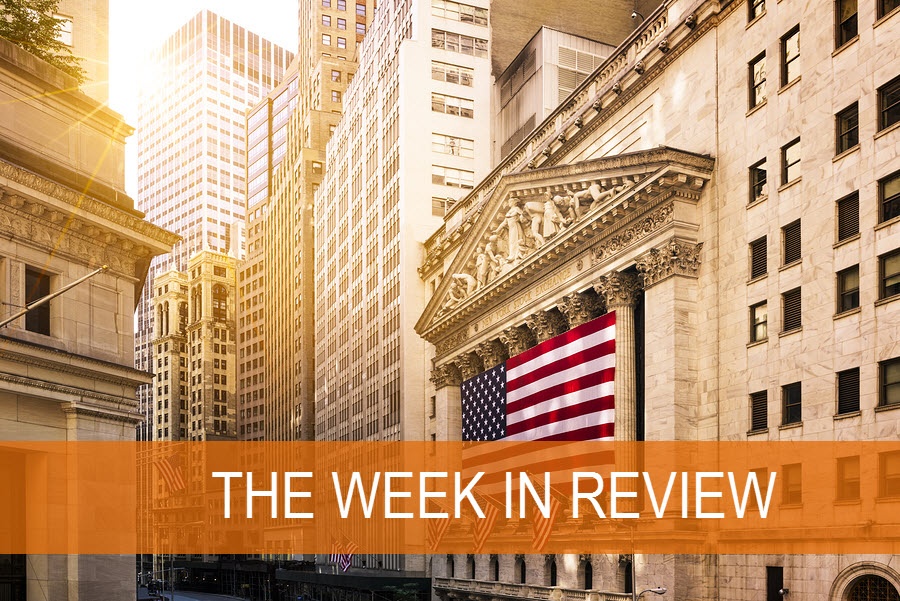 Global equities decline again, wage growth remains unchanged and what do the markets think about China U.S. trade negotiations? Find out more in this edition of "The Week in Review."
Last Week Review
Global equities decline for second straight week. All regions finished the week in the red leading to a weekly return of -0.4% for global equities.1 Emerging market equities struggled the most of the major regions last week experiencing a drop of 1.6%.2 Global equities remained 6.8% lower than the market peak in late January.3 Year-to-date all regions remained positive with the exception of emerging market equities returning -1.4%.4 The shape of the yield curve remained intact for the most part with the 10-year Treasury yield finishing the week at 2.95%5 and the 2-year Treasury yield finishing at 2.5%.6
No policy change at the May Fed meeting. The Federal Reserve (Fed) left interest rates unchanged at its meeting last week; we believe markets are now fully expecting a June Fed rate hike. Notable in the Fed's press release was the use of the word "symmetric" with respect to the Fed's inflation target. Since inflation has run below the Fed's 2% target for some time, the Fed appears to be indicating it will be more tolerant of inflation rising somewhat above the 2% target. Last week, core Personal Consumption Expenditures (PCE), the Fed's preferred inflation metric, moved higher to 1.9% year-over-year (y/y). The move did not rattle markets, however, as we believe it was broadly expected. Outside the U.S., Europe core inflation dropped to 0.7% y/y – below both consensus (0.9% y/y) and the prior level (1.0% y/y). We believe that this cannot comfort the European Central Bank (ECB), which is still a long way from monetary policy normalization.
Wage growth remains unchanged in mostly uneventful jobs report. In the April jobs report, the 164k jobs added figure fell short of consensus, but the prior month's figure was revised upward. Driven by a decrease in the labor force participation rate, the unemployment rate ticked down to 3.9%, which is the lowest level since 2000. Perhaps most closely followed by investors, wage growth remained unchanged at 2.6% y/y, despite consensus expectations for a tick-up to 2.7% y/y.
Earnings season continues with highest growth since 2011. 408 S&P 500 companies (82%) have reported earnings so far, with earnings growth of 24.1% y/y exceeding expectations by 7.2%.7 We believe the cut in the U.S. corporate tax rate to 21% has been a key driver of the earnings growth this quarter. Revenue growth has also held up well with a 9% y/y figure. Excluding the recovery in the energy sector, the materials sector has demonstrated the best earnings growth and revenue growth at 42.3% y/y and 21.6% y/y, respectively.8
This Week Preview
Earnings season moves toward the finish line. The majority of the remaining companies to report earnings in the next few weeks will come out of the consumer discretionary9 and technology sectors.10 Notable companies reporting this week include Walt Disney (DIS), Tyson Foods (TSN) and Duke Energy (DUK).
Markets continue to follow U.S.-China trade relations. Trade remains in the headlines in the U.S., as negotiators push for a final NAFTA deal and the U.S. and China will likely continue to work towards reaching agreement on trade issues such as tariffs and intellectual property protection. We believe investors will also keep an eye on economic data released in both countries this week. We believe U.S. inflation is expected to increase slightly from prior levels, with expected headline and core Consumer Price Index (CPI) figures of 2.5% y/y and 2.2% y/y, respectively. Meanwhile, China will release data across foreign reserves, inflation and imports/exports.
No rate hike expected at BOE meeting. We believe markets are not expecting a rate hike at this Thursday's Bank of England (BOE) meeting. The BOE recently dialed back expectations for near-term rate hikes as its late 2017 rate hike helped push inflation back toward the 2% target. UK inflation has gradually decreased from 3.1% y/y last November to 2.5% y/y in March. Looking ahead to the rest of 2018, we believe markets expect a roughly 69% probability of a BOE rate hike, which would move the policy rate up to 0.75%.
Click here to view the full report.
Unless otherwise noted, all opinions expressed in this post are those of the author and do not necessarily represent the views of Northern Trust. Information contained herein is current as of the date appearing only and is subject to change without notice.
---
End Notes
Bloomberg, 10-Year Treasury Rate 23Apr2018 - 27Apr2018.
Bloomberg, MSCI World Index returns 23Apr2018 – 27Apr2018.
Bloomberg, MSCI U.S. Equities IMI Index returns 23Apr2018 – 27Apr2018.
Bloomberg, MSCI ex-U.S. Equities IMI Index returns 23Apr2018 – 27Apr2018.
Bloomberg, MSCI Emerging Market Equities Index returns 23Apr2018 – 27Apr2018.
Bloomberg, The major regions returns are the MSCI U.S. Equities IMI Index returns , MSCI ex-U.S. Equities IMI Index returns and the MSCI Emerging Market Equities Index returns 02Jan2018 – 27Apr2018.
Bloomberg, 10-Year Treasury Rate 26Apr2018.
Bloomberg, 2-Year Treasury Rate 27Apr2018.
Aurelio, D. "S&P 500 Earnings Dashboard, Apr. 27." Thomson Reuters. Retrieved on April 27, 2018 from http://lipperalpha.financial.thomsonreuters.com/2018/04/sp-500-17q1-earnings-dashboard/.
Bloomberg, Fed Funds Futures Index 27Apr2018. Fed funds futures are used by banks and fixed-income portfolio managers to hedge against fluctuations in the short-term interest rate market. They are also a common tool traders use to take speculative positions on future Federal Reserve monetary policy.