.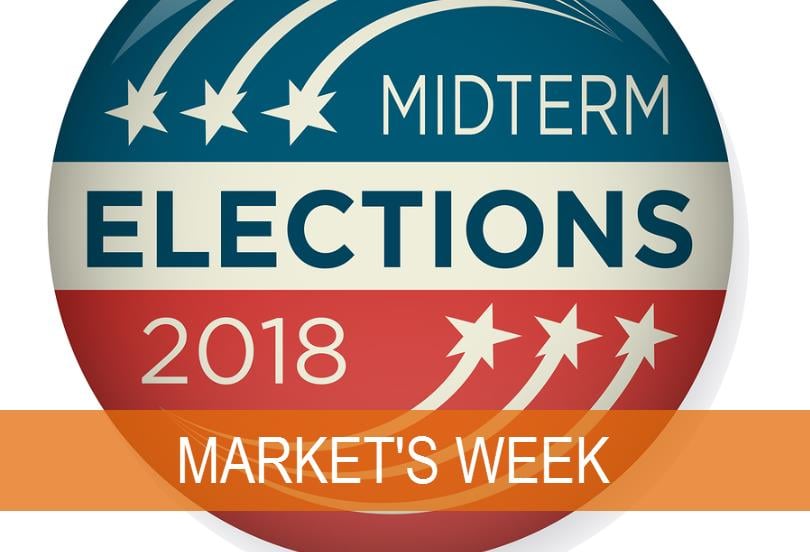 Global and U.S. equities start to recover from deep declines, while a positive new jobs report and higher wages push U.S. Treasury yields higher. What, if any effect, will the midterm elections have this week? Find out more in this edition of "The Week in Review."
Last Week Review
Global equities recover from rough start on Monday. Equity markets recovered from a weak start last Monday, as rumors of easing U.S.-China trade tensions helped boost non-U.S. equities especially in the latter part of last week. Global equities returned 3.2%1 – with positive returns across the U.S. (2.7%)2, non-U.S. developed markets (3.4%)3 and emerging markets (5.9%)4. In 2018 so far, U.S. equities remain well ahead of non-U.S. counterparts with a 3.2%5 return, compared to returns of -8.0%6 and -12.6%7 in non-U.S. developed markets and emerging markets, respectively.
Another solid U.S. jobs report despite rising wage growth. The jobs added figure jumped from a hurricane-dampened 118k figure in September to 250k in October. The unemployment rate was unchanged at 3.7%. Wage growth of 3.1% on a year-over-year basis surprised to the upside, which helped push the 10-year U.S. Treasury yield about 8 basis points higher to 3.21%8 by the end of last week. However, the other major U.S. inflation reading from last week was unchanged from prior levels. The Federal Reserve's preferred inflation measure, the core personal consumption expenditures index, remained in line with the Fed's inflation target at 2.0% y/y.
Germany Chancellor Angela Merkel steps down as CDU party leader. Merkel stepped down as leader of the Christian Democratic Union (CDU) party but hopes to remain as Germany's chancellor through the end of her term in 2021. Her remaining time in office will likely focus on Brexit and relations with the U.S. and Russia. However, key questions remain about the next CDU leader and whether Merkel will be able to maintain her party's current coalition government without triggering fresh elections.
Bank of England's rate path depends on Brexit. Bank of England (BOE) officials are forecasting a smooth Brexit transition that would cause the economy and inflation to run hot. In this scenario, the BOE thinks it would have to raise rates to 1.5% over the next three years to keep inflation and the overheating economy in check. Only three months ago, BOE leaders believed a roughly 0.25% raise over the same time period would be sufficient. Meanwhile in Japan, the Bank of Japan (BOJ) left its main policy rate on hold at -0.1% and planned for purchases of 10-year Japan government bonds to remain at the 0% target yield. The central bank forecasted lower inflation figures than previous forecasts which implies a rate hike over the near-to-medium term is unlikely.
Earnings growth remains robust with earnings season 75% complete. 377 S&P 500 companies (75%) have reported earnings thus far, with aggregate year-over-year (y/y) earnings growth of 26.5% that is 6.7% above consensus expectations. Revenue growth also remains strong at 8.8% y/y.9
This Week Preview
About a quarter of S&P 500 companies left to report earnings. The majority of companies yet to report results in the 3Q2018 earnings season lie in the consumer discretionary, information technology, and health care sectors. Companies in focus this week include DuPont (DD) on Tuesday and Walt Disney (DIS) on Thursday.
Midterm election polls expect a shift in control of the House. The U.S. votes in midterm elections on Tuesday, with many polls showing that Democrats will capture the House and Republicans will retain their Senate majority. A major financial market reaction is not anticipated – even with the potential changes in control – as markets have not been expecting any immediate legislation under the current Republican Congress. A divided Congress could make day-to-day governing more challenging, but many key policy issues such as trade have been largely driven by the executive branch. Investors are more likely to focus on implications related to the growth outlook.
Fed messaging takes center stage in November meeting. Though expectations for a rate hike are very low, markets will pay close attention to the language in the policy statement from Thursday's Fed meeting. The Fed hopes to continue on a path of gradual rate increases, as it gauges the inflation outlook as well as potentially considering stresses that tightening policy places on financial markets and the economy. Despite recent equity market volatility, Fed funds futures have been fairly unchanged and continue to show about a 75% probability of a December Fed rate hike.
Click here to view the full report.
Unless otherwise noted, all opinions expressed in this post are those of the author and do not necessarily represent the views of Northern Trust. Information contained herein is current as of the date appearing only and is subject to change without notice.
End Notes
1) Bloomberg, MSCI World Index return 29Oct2018 – 02Nov2018.
2) Bloomberg, MSCI U.S. Equities IMI Index return 29Oct2018 – 02Nov2018.
3) Bloomberg, MSCI ex-U.S. Equities IMI Index return 29Oct2018 – 02Nov2018.
4) Bloomberg, MSCI Emerging Market Equities Index return 15Oct2018 – 19Oct2018.
5) Bloomberg, MSCI U.S. Equities IMI Index return 02Jan2018 – 02Nov2018.
6) Bloomberg, MSCI ex-U.S. Equities IMI Index return 02Jan2018 – 02Nov2018.
7) Bloomberg, MSCI Emerging Market Equities Index return 02Jan2018 – 02Nov2018.
8) Bloomberg, Yield of the 10-Year nominal Treasury rate using data available as of 02Nov2018. Basis Point (BPS) refers to a common unit of measure for interest rates and other percentages in finance. One basis point is equal to 1/100th of 1%, or 0.01%, or 0.0001, and is used to denote the percentage change in a financial instrument.
9) Thomson Reuters. S&P 500 Earnings Dashboard. Retrieved 02Nov2018 from http://lipperalpha.financial.thomsonreuters.com/2018/11/this-week-in-earnings-9/
Past performance is no guarantee of future results. It is not possible to invest directly in any index and index performance returns do not reflect any management fees, transaction costs or expenses.