.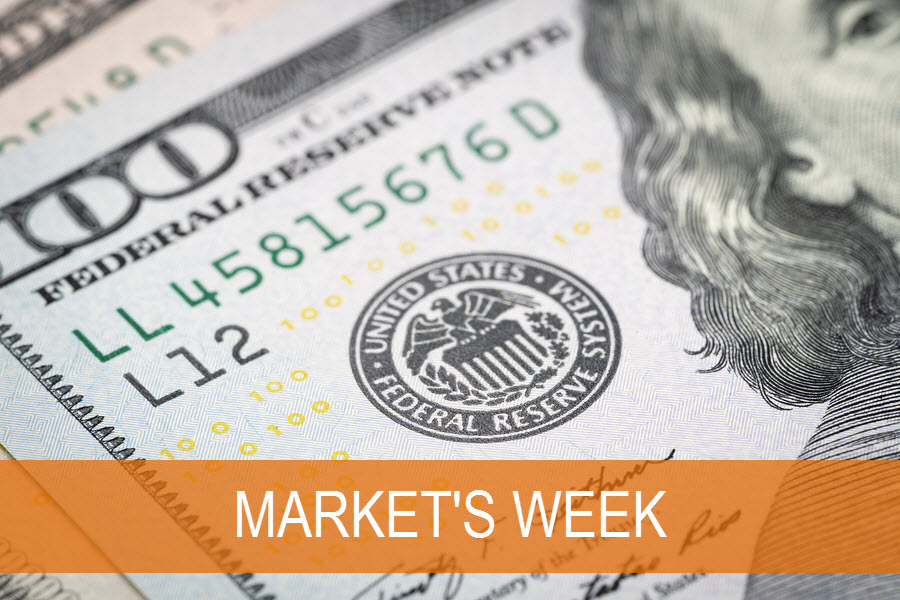 Equity roller coaster ride and will earnings continue their upward climb? Find out more in this edition of "Weekly Market Update."
Last Week Review
Global equities end rollercoaster week mostly flat. Global equities fell slightly last week with a small -0.1% loss1. Emerging markets (-0.8%)2 led global equities lower while developed ex-U.S. equities fell slightly (-0.2%)3 and U.S equities were flat4. Global equities remain in negative territory year-to-date at -1.7%5. We believe that in the wake of continued trade concerns and local equity market declines, China's currency fell to its lowest level in nearly two years, though the U.S. government declined to label China a currency manipulator in a recent U.S. Treasury report.
Brexit and Italy remain in the spotlight in Europe. A summit in Europe failed to produce an agreement on the UK's departure from the European Union by March 2019. A follow-up meeting in November is planned to help finalize a deal. UK Prime Minister Theresa May is considering an extended transition period through 2020 to allow for more time to reach an agreement on trade, though this approach is likely to face opposition from UK Parliament. Meanwhile in Italy, the European Commission responded negatively to Italy's budget plan that included a deficit of 2.4% of gross domestic product – triple the amount that is permitted. If the budget is rejected by the European Commission, Italy will have to send a revision by late November. Italy 10-year yields rose to their highest levels since 20146 before closing last week at 3.48%7.
Meeting minutes confirm Fed's plan for gradual rate hikes. Meeting minutes from the September Federal Reserve (Fed) meeting indicated that the Fed remains on a path to gradually increase interest rates. The minutes did not contain any major surprises, but were less hawkish overall than recent comments made by Fed Chair Jerome Powell. That said, some Fed leaders think interest rates will eventually need to be modestly restrictive to prevent the economy from overheating. Fed funds futures are pricing in a 81% probability of a December Fed rate hike8.
Japan plans to raise consumption tax by 2% in 2019. Japan Prime Minister Shinzo Abe announced a consumption tax increase from 8% to 10% beginning in October 2019. The tax revenue will help reduce Japan's public debt and seeks to offset Japan's challenges with an aging population. After Japan experienced a small recession the last time the tax was raised in 2014, the government has been working to create offsets to the expected effects on consumption, including a reward system where consumers will receive cash back in the form of rewards points.
Earnings growth remains robust. So far, 70 S&P 500 companies (14.0%) have reported results. Overall earnings growth (22.1% year-over-year) remains ahead of the pre-earnings season estimate and near the level observed in the prior quarter9.
This Week Preview
Earnings season continues with the industrials sector. A majority of the companies reporting this week will come out of the industrials and communication services sectors10. Notable industrial companies include Union Pacific (UNP), Lockheed Martin (LMT), Caterpillar (CAT), Boeing (BA), United Technologies (UTX) and United Parcel Service (UPS). Verizon (VZ), AT&T (T) and Alphabet (GOOGL) report out of the communication services sector. Other closely watched companies reporting earnings results include McDonald's (MCD), Intel (INTC), Microsoft (MSFT) and Amazon (AMZN).
Flash PMI data expected to show slowing growth momentum. Many of the major non-U.S. countries reporting flash manufacturing Purchasing Managers' Index (PMI) figures this week expect further growth deceleration from the beginning of the year. Surveys show Germany and Europe readings dipping below prior levels to 53.4 and 53.0, respectively, while the U.S. is expected to remain mostly in-line with last month at 55.5. Flash services PMI data is expected to show similar patterns with decreases in Germany and Europe in addition to an upward move in the U.S.
European Central Bank to discuss asset purchases. In Thursday's meeting, the European Central Bank (ECB) will likely confirm its plan to end asset purchases by the end of 2018, after already halving its monthly purchase amount to €15 billion in early October. Investors will listen closely to ECB President Mario Draghi's press conference for any additional clues on the ECB's plans to further normalize policy in 2019.
Click here to view the full report.
Unless otherwise noted, all opinions expressed in this post are those of the author and do not necessarily represent the views of Northern Trust. Information contained herein is current as of the date appearing only and is subject to change without notice.
End Notes
1) Bloomberg, MSCI World Index return 15Oct2018 – 19Oct2018.
2) Bloomberg, MSCI Emerging Market Equities Index return 15Oct2018 – 19Oct2018.
3) Bloomberg, MSCI ex-U.S. Equities IMI Index return 15Oct2018 – 19Oct2018.
4) Bloomberg, MSCI U.S. Equities IMI Index return 15Oct2018 – 19Oct2018.
5) Bloomberg, MSCI World Index return 02Jan2018 – 19Oct2018.
6) Bloomberg, In this analysis we are making a comparison of the Generic Italian Government Bond Rate, 10-Year Maturity, using data available as of 01Jan2014 – 19Oct2018.
7) Bloomberg, Generic Italian Government Bond Rate, 10-Year Maturity, 15Oct2018 – 19Oct2018.
9) Bloomberg, Fed Funds Futures Index 19Oct2018. Fed funds futures are used by banks and fixed-income portfolio managers to hedge against fluctuations in the short-term interest rate market. They are also a common tool traders use to take speculative positions on future Federal Reserve monetary policy.
10) Thomson Reuters. S&P 500 Earnings Dashboard. Retrieved 22Oct2018 from http://lipperalpha.financial.thomsonreuters.com/2018/10/sp-500-17q1-earnings-dashboard/.
11) Bloomberg. Industrials comprise those companies included in the S&P 500 that are classified as members of the GICS® industrial sector and Communications comprise those companies included in the S&P 500 that are classified as members of the GICS® communications sector. The Global Industry Classification Standard (GICS) is an industry taxonomy developed in 1999 by MSCI and Standard & Poor's (S&P) for use by the global financial community. The GICS structure consists of 11 sectors, 24 industry groups, 68 industries and 157 sub-industries into which S&P has categorized all major public companies. GICS is used as a basis for S&P and MSCI financial market indexes in which each company is assigned to a sub-industry, and to a corresponding industry, industry group and sector, according to the definition of its principal business activity.
Past performance is no guarantee of future results. It is not possible to invest directly in any index and index performance returns do not reflect any management fees, transaction costs or expenses.