.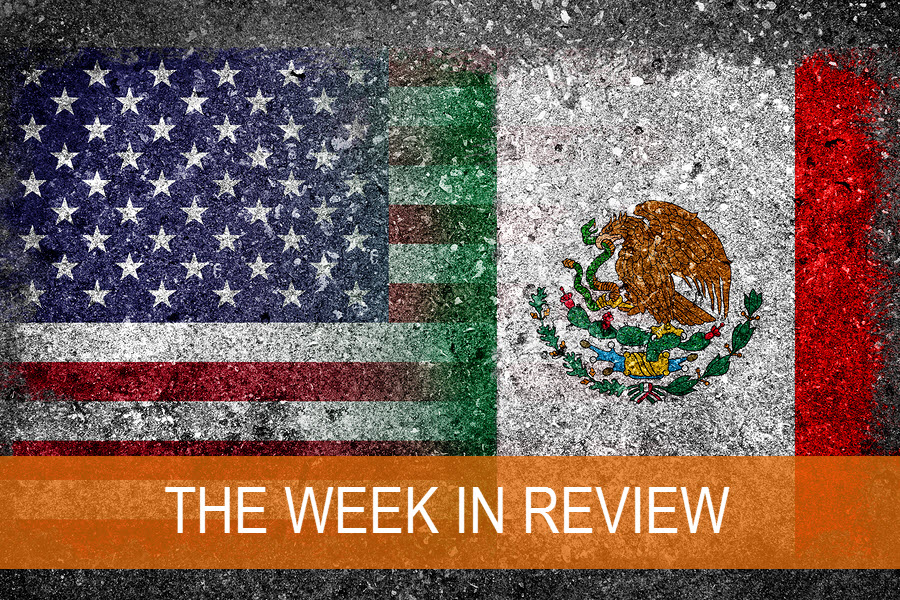 US continues to lead, US and Mexico reach agreement and where will the jobs report come in? Find out more in this edition of "The Week in Review."
Last Week Review
Modest weekly gains for each major equity region. Global equities returned +0.7% last week1, thanks to positive returns across the U.S. (+1.0%)2, non-U.S. developed markets (+0.3%)3, and emerging markets (+0.7%)4. At this point, the year-to-date return for U.S. equities is now in double-digits at +10.5%5, while non-U.S. developed market equities (-1.8%)6 and emerging market equities (-7.2%)7 continue to trail the U.S. by more than 10%8. Finally, the spread between the 10-year and 2-year U.S. Treasury yields moved a bit higher last week, ending the week at 23 basis points9.
The U.S. and Mexico announce bilateral trade deal. Last Monday's U.S.-Mexico bilateral trade announcement put pressure on Canada to negotiate a revision of the North American Free Trade Agreement (NAFTA). Talks appeared to be moving in a positive direction, though they did not reach conclusion by last Friday and are expected to resume next week. The legislators of each country will have to finalize any of the deals before they become official. In addition, a top European Union (EU) trade official mentioned the possibility of removing all automobile tariffs between the U.S. and the EU. With progress on NAFTA negotiations and EU-U.S. trade relations in recent weeks, China remains the focus of future U.S. trade initiatives. However, the developments above were partially offset by President Trump's threat to remove the U.S. from the World Trade Organization (WTO).
Core PCE hits the Fed's 2% target. The Federal Reserve's (Fed) preferred inflation metric core Personal Consumption Expenditures (PCE) reached 2.0% on a year-over-year (y/y) basis for the first time in six years. With the economic expansion continuing and inflation at target levels, the Fed is fully expected to move interest rates higher in September's meeting. In addition, markets based on the Fed Funds Futures Index expect a roughly 60% chance of an additional Fed rate hike in December10, though further Fed activity may be constrained by concerns on the flattening yield curve11. In other news regarding the Fed, Columbia University economics professor Richard Clarida was confirmed by the Senate last week to be the next Fed vice chair.
Europe inflation readings slightly below consensus. The Germany headline Consumer Price Index (CPI) figure was in-line with consensus expectations and the prior level at 2.0% y/y. Meanwhile, Europe headline CPI (2.0% y/y) and core CPI (1.0% y/y) readings were both just below prior figures and consensus estimates. With its asset purchase program set to conclude by year-end and a plan to eventually start removing monetary policy accommodation in the back half of 2019, European Central Bank officials will look for inflation to gradually increase over the upcoming months.
This Week Preview
Jobs report the main focus in holiday-shortened week in the U.S. U.S. labor market data for the month of August will be released this Friday. Overall, the jobs added figure is expected to come in at 193k, which would be an improvement from last month (157k) but modestly below the 2018 average level (215k). Consensus expectations call for wage growth to remain unchanged from the prior month's reading at 2.7% y/y. The unemployment rate for August is expected to tick down from 3.9% to 3.8%, which remains among the lowest levels observed since 2000.
Investors monitoring China economic data for trade tension impacts. China will release economic data late this week across imports/exports, foreign reserves, and inflation. Tariffs on a total of $50 billion worth of goods between the U.S. and China have been implemented, so investors are reviewing economic data points closely to gauge the true impact. After an uptick in July, China's exports are expected to decrease to 9.3% y/y. China's imports saw a large increase in July as well and surveys show that trend decreasing in August to 18.7% y/y.
Trade developments remain on investors' radar. Investors will continue to look for more details on trade negotiations between the U.S., Mexico and Canada. In addition, President Trump may move forward with an additional round of tariffs on $200 billion worth of China exports following the conclusion of the public comment period next week.
Click here to view the full report.
Unless otherwise noted, all opinions expressed in this post are those of the author and do not necessarily represent the views of Northern Trust. Information contained herein is current as of the date appearing only and is subject to change without notice.
End Notes
1) Bloomberg, MSCI World Index returns 27Aug2018 – 31Aug2018.
2) Bloomberg, MSCI U.S. Equities IMI Index returns 27Aug2018 – 31Aug2018.
3) Bloomberg, MSCI ex-U.S. Equities IMI Index returns 27Aug2018 – 31Aug2018.
4) Bloomberg, MSCI Emerging Market Equities Index returns 27Aug2018 – 31Aug2018.
5) Bloomberg, MSCI U.S. Equities IMI Index returns 02Jan2018 – 31Aug2018.
6) Bloomberg, MSCI ex-U.S. Equities IMI Index returns 02Jan2018 – 31Aug2018.
7) Bloomberg, MSCI Emerging Market Equities Index returns 02Jan2018 – 31Aug2018.
8) Bloomberg, In this example a comparison is being made between MSCI U.S. Equities IMI Index returns versus both the MSCI ex-U.S. Equities IMI Index returns and the MSCI Emerging Market Equities Index returns 02Jan2018 – 31Aug2018.
9) Bloomberg, In this analysis we are making a comparison between the difference of the 2-Year nominal Treasury rates versus the 10-Year nominal Treasury rates using data available as of 31Aug2018. Basis Point (BPS) refers to a common unit of measure for interest rates and other percentages in finance. One basis point is equal to 1/100th of 1%, or 0.01%, or 0.0001, and is used to denote the percentage change in a financial instrument.
10 ) Bloomberg, Fed Funds Futures Index 31Aug2018. Fed funds futures are used by banks and fixed-income portfolio managers to hedge against fluctuations in the short-term interest rate market. They are also a common tool traders use to take speculative positions on future Federal Reserve monetary policy.
11) Yield Curve is constructed by plotting a session's final yields for various maturities including 1-month, 3-month, 6-month, 1-year, 2-year, 3-year, 5-year, 7-year, 10-year, 20-year and 30-year maturities. A flat yield curve would show similar interest rates between the various maturities.
Past performance is no guarantee of future results. It is not possible to invest directly in any index and index performance returns do not reflect any management fees, transaction costs or expenses.