.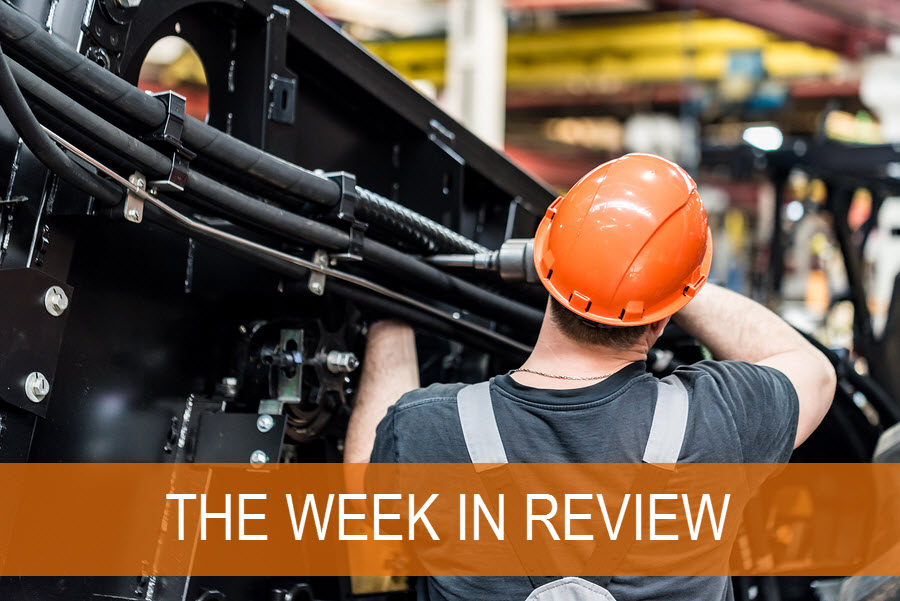 Global equities push higher, continued expansion shown in PMI data and will the Fed push interest rates higher? Find out more in this edition of "The Week in Review."
Last Week Review
Global equities push higher despite trade tensions. Global equities brushed off escalating trade tensions between the U.S. and China for a 1.6% weekly gain.1 Equity returns were all positive for the second straight week across the U.S. (0.6%)2, non-U.S. developed markets (2.7%)3, and emerging markets (2.1%)4. In 2018 so far, U.S. equities are up 11.2%5, while non-U.S. developed markets and emerging markets are down -0.3%6 and -7.6%7, respectively. In fixed income, the 10-year Treasury yield moved 7 basis points higher last week to 3.06%8, slightly below its 2018 high of 3.11%9.
U.S. and China both go ahead with additional trade measures. President Trump moved forward with the much-discussed round of tariffs on $200 billion worth of exports from China. Duties will start at 10% and could rise to 25% by the start of 2019 if no deal with China is reached. As promised, China retaliated with a new round of tariffs on $60 billion of U.S. goods. Each country's measures will take effect on September 24. Furthermore, President Trump has threatened a further round of tariffs on $267 billion in China goods if U.S. trade relations with China do not improve.
Europe sees a drop in flash manufacturing PMI data. Flash manufacturing Purchasing Managers' Index (PMI) data was released last week across the U.S., Europe, Germany, and Japan. The Europe and Germany figures each fell by more than a point to 53.3 and 53.7, respectively, though they still remain comfortably in expansionary territory (above 50). Readings for the U.S. and Japan moved modestly higher to 55.6 and 52.9, respectively.
UK's Brexit plan rejected by EU leaders. Brexit remains a difficult issue for UK Prime Minister Theresa May as European Union (EU) leaders rejected her Brexit plan and called for a solution to be reached within four weeks. The EU would like progress on the Ireland border issue prior to a summit in mid-October and only then would consider an additional summit in November to wrap up the talks. May responded that she would not break up the UK and the country would exit the EU with no deal if the EU does not adjust its stance.
Japan PM Abe wins third term in leadership vote. Japan Prime Minister Shinzo Abe is set to remain in power through 2021, meaning Japan's current economic initiatives will likely continue. Elsewhere in Japan, headline inflation moved modestly higher to 1.3% on a year-over-year (y/y) basis. Finally, last week's Bank of Japan meeting contained no major surprises, but rather a confirmation that the central bank will keep policy accommodative for an extended period of time.
This Week Preview
Federal Reserve (Fed) expected to move interest rates higher. We believe investors fully expect the Fed to raise interest rates on Wednesday which would place the Fed funds rate in the 2% to 2.25% range. Markets anticipate about a 73% probability of another rate hike in December10. While the U.S. economy remains strong, the Fed will assess flat yield curve11, trade, and emerging markets concerns. Investors will focus on the Fed's messaging, particularly around how the Fed may proceed with policy in 2019. Our analysis suggests that some investors think the "accommodative" description of Fed policy will be removed from the meeting statement, meaning the Fed would see less of a need to tighten policy going forward.
PCE Core expected to remain near the Fed's 2% target. This week will see inflation data releases across the U.S. and Europe. The Fed's preferred inflation measure – Personal Consumption Expenditures (PCE) Core – will be released on Friday and is expected to remain near the prior level of 2.0% y/y. Europe headline inflation will also be released and is expected to move slightly higher to 2.1% y/y.
Communication services sector re-shuffle continues to go into effect. The current telecommunication services sector will be paired with a number of internet and media companies to form a newly created communication services sector12. This change will be happening across the last 10 days of September, with changes going into effect last Friday for S&P Dow Jones indices and this Friday for MSCI indices.
Click here to view the full report.
Unless otherwise noted, all opinions expressed in this post are those of the author and do not necessarily represent the views of Northern Trust. Information contained herein is current as of the date appearing only and is subject to change without notice.
End Notes
1. Bloomberg, MSCI World Index return 17Sep2018 – 21Sep2018.
2. Bloomberg, MSCI U.S. Equities IMI Index return 17Sep2018 – 21Sep2018.
3. Bloomberg, MSCI ex-U.S. Equities IMI Index return 17Sep2018 – 21Sep2018.
4. Bloomberg, MSCI Emerging Market Equities Index return 17Sep2018 – 21Sep2018.
5. Bloomberg, MSCI U.S. Equities IMI Index return 02Jan2018 – 21Sep2018.
6. Bloomberg, MSCI ex-U.S. Equities IMI Index return 02Jan2018 – 21Sep2018.
7. Bloomberg, MSCI Emerging Market Equities Index return 02Jan2018 – 21Sep2018.
8. Bloomberg, Yield of the 10-Year nominal Treasury rate using data available as of 21Sep2018. Basis Point (BPS) refers to a common unit of measure for interest rates and other percentages in finance. One basis point is equal to 1/100th of 1%, or 0.01%, or 0.0001, and is used to denote the percentage change in a financial instrument.
9. Bloomberg, Yield of the 10-Year nominal Treasury rate using data available as of 17May2018.
10. Bloomberg, Fed Funds Futures Index 21Sep2018. Fed funds futures are used by banks and fixed-income portfolio managers to hedge against fluctuations in the short-term interest rate market. They are also a common tool traders use to take speculative positions on future Federal Reserve monetary policy.
11. Yield Curve is constructed by plotting a session's final yields for various maturities including 1-month, 3-month, 6-month, 1-year, 2-year, 3-year, 5-year, 7-year, 10-year, 20-year and 30-year maturities. A flat yield curve would show similar interest rates between the various maturities.
12. Bloomberg. S&P 500® Communications Services Index comprising those companies included in the S&P 500 that are classified as members of the new GICS® Communications Services sector. The Global Industry Classification Standard (GICS) is an industry taxonomy developed in 1999 by MSCI and Standard & Poor's (S&P) for use by the global financial community. The GICS structure consists of 11 sectors, 24 industry groups, 68 industries and 157 sub-industries into which S&P has categorized all major public companies. GICS is used as a basis for S&P and MSCI financial market indexes in which each company is assigned to a sub-industry, and to a corresponding industry, industry group and sector, according to the definition of its principal business activity.
Past performance is no guarantee of future results. It is not possible to invest directly in any index and index performance returns do not reflect any management fees, transaction costs or expenses.