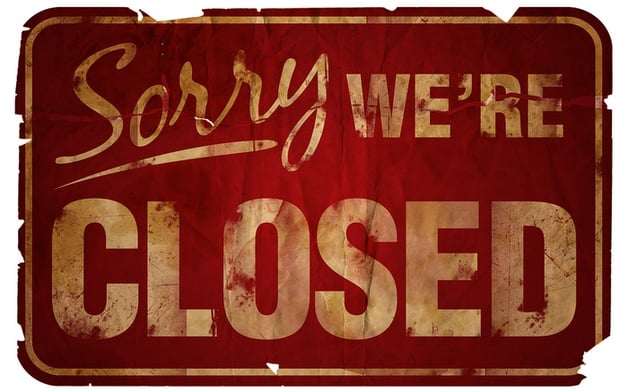 Active investors who keep up with financial news undoubtedly noted the recent announcement of a new milestone in the ETF world: this past July, the 600th ETF was delisted prior to market opening on July 18. Judging just how important that number is and what it means to investors who have already embraced considering ETFs, this may require further explanation and some industry context.
Is 600 a remarkable number? Not in and of itself. Given the explosive growth of this instrument, the fact that the recent trend of closures increasing has not been a sustained one is worthy of note. In fact, as the table below reflects, it could be argued that mutual fund closures are picking up at a faster rate than ETFs.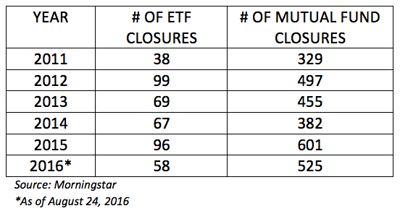 More important is the fact that the net number of ETFs in the marketplace has increased exponentially since their inception, with the number of launches each year also growing. A fund shutting down is a natural process that keeps the industry healthy, trimming the fat from the now nearly 2,000 ETFs in the U.S. market. As the industry continues to grow, the number of closures will inevitably do the same.
Why do ETFs fail?
STRENGTH OF THE ISSUER: It's a fact that most ETF closures are the result of entire companies exiting the category. Investors would do well to investigate the issuer's track record for stability and commitment and not just study a particular ETF.
LOW AUM: An obvious reason, at least for most funds that close, is a low level of Assets Under Management (AUM). According to ETF.com, a good general rule of thumb is that a fund with assets of at least $50 million is much less likely to close.
A FUND'S RANK IN ITS SEGMENT: In a nutshell, a fund with low AUM and a low ranking in a saturated segment may be at greater risk than one that offers exposure to a less saturated, more unique market segment.
What If Your ETF Closes?
If one day you receive notice of a fund delist or liquidation, first of all, don't panic. Understand that it is possible and often advisable to sell your shares before that last trading date, which will be stated in the supplement prospectus.
If the closing is a liquidation, investors will receive cash distributions equal to the then-current value of their shares. (There have been cases, however, where investors have incurred liquidation costs that reduce the share's Net Asset Value or NAV.)
If the fund simply delists without liquidating its assets, it is even more important to act quickly. If you miss the last trading date, you will be forced to trade your shares over the counter, sacrificing liquidity and, most likely, incurring more cost than if you had traded on an exchange.
Also note that, under either scenario, early liquidation forces investors to realize any capital gains, a tax burden you probably did not expect!
The upside is that for every fund that does not succeed, there is undoubtedly a larger, more stable, more viable ETF product for your portfolio. Hopefully, this post has given you a better understanding of how the ETF market operates.