Unless you've been off the grid for a few years, you know that Diversity, Equity and Inclusion (DE&I) is becoming a game changer. That explains why the most popular The Flexible Advisor episode in 2021 was a discussion with D.A. Abrams of The CFP Board's Center For Financial Planning on the basics: The Four Pillars of DE&I.
Businesses and service providers are coming to recognize that the way they integrate DE&I into their operations is emerging as a standard criterion for clients as well as prospective employees.
But how do you tackle such a multifaceted challenge effectively, efficiently, and sustainably? What is most appropriate for your specific situation?
If this topic interests you, check out the proprietary high-net-worth investor and advisor research that FlexShares has done on this topic. Visit our Diversity Hub where you can download a copy of our 2021 whitepaper, listen to other podcasts on the topic or read one of our many blog posts on how to integrate a DE&I program into your business.
The Flexible Advisor podcast series was created to help you examine and address issues like this. Through casual conversation, thought leaders from a variety of professional disciplines provide clarity and perspective, share lessons learned and best practices, and suggest simple steps that can make a notable difference.
Access The FULL Podcast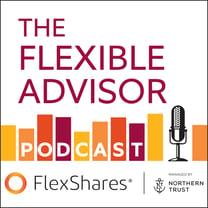 Download The Flexible Advisor podcast wherever you access your podcasts. We hope you will find it a useful resource for ideas to optimize your practice.